Forex Candlesticks
Forex Candlesticks / How to Read them?
For any technical trader looking to gain a deeper understanding of how to read forex charts in general.
I think learning to read candlestick charts is a great starting point.
In the 18th century, Candlestick charts were invented and created, as you may already know.
The beginning reference to a candlestick pattern used in financial markets was invented in Sakata, Japan.
where something similar to a modern candlestick was used by a rice merchant named Munehisa Homma.
He used it to trade in the Ojima rice market in the Osaka area.
Meanwhile bar charts and line charts were very common among Western traders.
So in the early 1990s, a Chartered Market Technician (CMT)  introduced Japanese Candlestick charts.
His name is Steve Nison.
And also additional trends to the Western financial markets.
As a result and because of its extremely good and predictive characteristics.
The popularity of the candlestick charts has grown enormously among the western traders.
Candlestick charts can play a crucial role in the financial markets.
Because they give a better understanding of price action and order flow.
Reading Candlesticks:
Firstly you need to understand the basic structure of a single candle on the candlestick chart.
To give a time indication, each Candlestick is a certain time; it may be 5min, 1H, Daily, Weekly, etc.
A Candlestick represents four different values ​​on a chart, regardless of the time period.
The opening price
The closing price
The highest price
The lowest price
In short
When you read a candle, it will give you information on whether the session ended bullish or bearish.
So depending on the opening and closing prices.
The bullish candlestick is formed when the closing price is higher than the opening price.
And on the other hand the  Bearish Candlestick is formed when the closing price is lower than the opening price.
And during the time period, the upper and lower shadows of the Candlestick represent the highest and lowest cost.
Do you want to become Success Supply and Demand Trader or want to know more about Forex Candlesticks?
If you are a beginner trader and to become a good professional forex trader.
The Forex Scalper teaches you the best scalping trading strategy using supply and demand zones.
Which is already traded and tested by thousands of TFS members and performs daily trades.
To become profitable from Beginner Trader and most successful Scalping trader in Supply and Demand.
Join THEFOREXSCALPERS and trade with 3500+ community traders with daily analysis and educations.
Which boosts your trading skills make you Professional Forex Market Trader.
======================
Results – Instagram
======================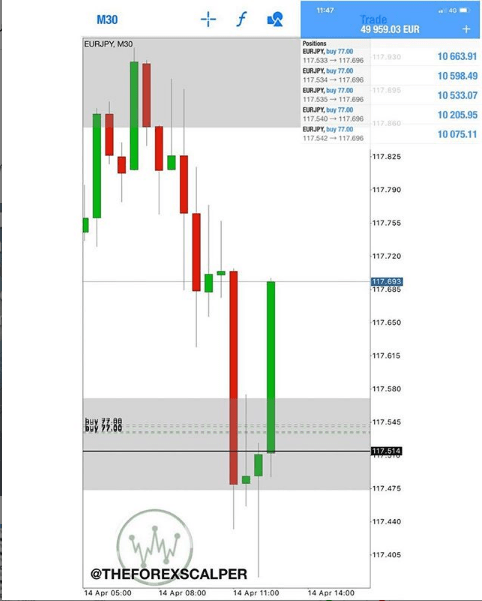 Looking for a Trusted Regulated Broker?
TheForexScalper recommends you join ICMARKET which is regulated and the most trusted broker.
They provide very tight raw spread account with fast execution and having multiples deposit and withdrawal options.
Please follow and like us: