Questions I Get Asked as a Forex Trader.
Every day I am inundated with questions in the email on instagram and other platforms.
Therefore I am going to answer the most frequently asked questions today in this blog.
Many questions also come from the beginners in the Forex market
and for many of you the questions will make no sense but let's go through them together.
So here are the number 1 most frequently asked questions:
1.  "Where you you think (random currency) is gonna go?"
Questions I Get Asked as a Forex Trader.

Okay, this question is asked very often.
And no unfortunately I am not a clairvoyant and I have no idea where exactly the price will go.
First of all, this question is also super vague and I will appreciate it if you give me a little more information to have a good answer for you.
For example you ask me "Where do you think EUR / USD is going?"
Uhm yes you mean next year? Today? In a week or in a whole month?
And even then I cannot give you an answer with certainty.
There are several things to look out for and my opinion can change every day.
Because we have to sail with the waves.
So if you ever ask me this question you will always receive the same answer:

I have no idea, as no one can know exactly and no more than you can know. / Questions I Get Asked as a Forex Trader.
And that's not wrong and I'll be lying if I said I did.
So you know what it is, I review it every day.
For instance when i open my charts and see a nice trade developing, it may change my opinion about another trade and that's how we look at it from day to day.
But the fact is I can't tell you exactly where EUR / USD is next month.

2. What do you think of "this" or "this" trader?
I am also asked this question daily and to be very honest with you I am not concerned with that.
Because I am mainly focused on my trading, my companies and of course my community.
So this question is also very pointless to ask me.
Therefore I will never pass judgment on anyone who I do not know personally and not know his way of trading.
3. "Based on (world/political event), what do you think this currency is going to do?"
Questions I Get Asked as a Forex Trader.

I can never give you the answer to this question with certainty.
But with some events you can know certain things.
So for example, when President Trump was elected president,
this was seen as good for the economy and bad for the price of the USD.
Trump wanted exports to go way up, and a cheaper dollar was a big part of that.
So just know that any time a conservative leader is elected, it's generally seen as good for the economy.
If you are a beginner trader and to become a good professional forex trader.
Want to know more about How forex leverage works?
Therefore the Forex Scalper teaches you the best scalping trading strategy using supply and demand zones which are already traded and tested by thousands of TFS members and performs daily trades.
To become profitable from Beginner Trader and most successful Scalping trader in Supply and Demand join THEFOREXSCALPERS and trade with 3500+ community traders with daily analysis and educations which boosts your trading skills make you Professional Forex Market Trader.
======================
Results – Instagram
======================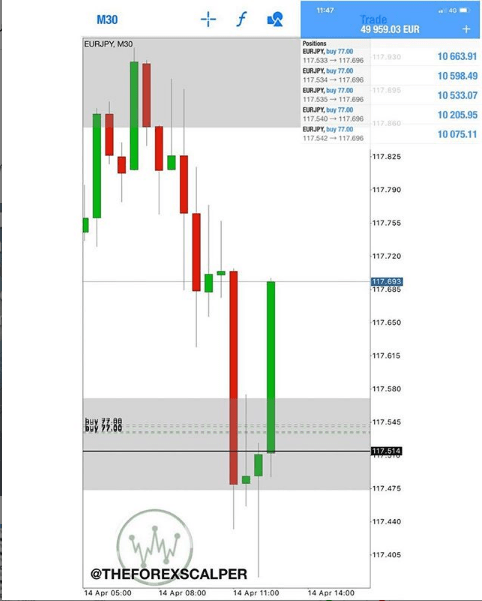 Looking for a Trusted Regulated Broker?
TheForexScalper recommends you join ICMARKET which is regulated and the most trusted broker. They provide very tight raw spread account with fast execution and having multiples deposit and withdrawal options.
Please follow and like us: