Forex trading can cover a wide variety of different trading techniques and approaches. Some of these approaches, depending on the particular temperament and character of the person, may seem more suited to particular traders than others. Short-term Forex trading has always been popular with traders lacking time but loving the excitement of market exposure. Many basic principles need to be understood and mastered for effective short-term trading. These fundamentals could mean the difference between a loss and a profitable trade.
Commonly, there are 3 categories of Forex trading. Short term, which is an exchange that takes 24-48 hours to complete. This can be as little as 5 minutes or as long as 2 days but is generally called short-term forex trading. Medium-term is 2 days to a week or 2, which is also known as swing trading and can be very good for the inexperienced trader. Long-term trading is the final type; this is any transaction lasting more than 2 weeks, typically more than 1 month and up to years.
Short term forex trading can be extremely stressful if carried out over a long period of time. You need quick fingers to move in and out of positions and you need to make quick decisions regarding entries and exits. You are also frequently faced with the requotes of your broker, and will also be closely scrutinized if you do a lot of short-term trades with them that last just a few minutes. Basically, it's quite a stressful work, which is why long-term forex trading is typically much more important.
The core principle of short-term forex trading is to adopt a strategy that will allow the trader to make as many entries as possible, usually from 1 to 30 minutes (M1 to M30) within very short time frames. Short-term trading is done with the greatest volatility over the periods. Although there are strategies where traders are taking instructions for the technical study, there are also those focused on events. In short-term trading technical analyzes are more important. It will only be advantageous if you manage to shape your personal short-term forex trading strategy which takes both into consideration and provides you with good results.
To become a profitable and most successful trader in Supply and Demand join THEFOREXSCALPERS and trade with 3500+ community traders with daily analysis and educations which boost your trading skills make you Professional Forex Market Trader.
======================
Results – Instagram
======================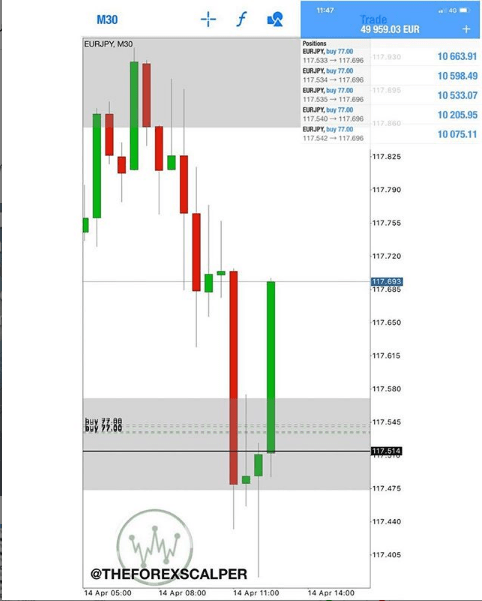 Please follow and like us: