What is liquidity in forex?
What is liquidity in forex?
Liquidity in the forex market is the ability for a currency pair to trade.
I mean Buy/Sell on Demand.
So when you trade Major currency pairs you are trading a market that is extremely liquid.
But not every currency pair is liquid.
Currency pairs actually have different levels of liquidity.
And this again depends on whether it is a Major pair or a Minor pair and then of course you also have the exotic pairs.
So Forex liquidity dries up as trader's move from major pairs to minor pairs and finally to the exotic pairs.
Liquidity Pairs.
What are High Liquidity Pairs? / what is liquidity in forex?
Firstly high liquidity in forex refers to a currency pair that can be bought or sold in large quantities without major differences in the exchange rate.
So below is a list of the major pairs, which means pairs with a high liquidity.
EUR/USD (Is the world's most heavily traded currency pair, representing more than 20% of all forex transactions.)
USD/JPY (Is a distant second place.)
GBP/USD
USD/CHF
EUR/GBP
AUD/USD
USD/CAD
NZD/USD
What are low liquidity pairs? / what is liquidity in forex?
Secondly Low liquidity pairs are pairs that cannot be bought or sold without major differences in its exchange rate price level.
Like exotic pairs for example AUD/NOK (Australian Dollar/Norwegian Krone).
Liquidity Levels.
What are Liquidity Levels? / what is liquidity in forex?
For large institutions and traders who have to fill large orders, finding high liquidity levels is very important.
So a market's liquidity has a big impact on how volatile the market's prices are.
When these major players enter the market, they naturally want their orders to be filled at the best price.
However, given the size of their positions, they need to find enough counter-forces to fill their orders, and here is the key, with the minimal amount of slippage.
For example imagine a big player coming in at a low liquidity area, the volatility it would create would have a negative impact on the average price it gets.
So low liquidity often makes the market more volatile and also causes the price to change drastically.
But where exactly do we find these levels?
The answer is actually very simple where Stoploss orders are hidden.
Maybe you already know the word Stop-Hunt? This actually has everything to do with it.
So the fact that large players have to enter the market in areas of liquidity as they aim to accumulate major positions.
These areas will always attract interest as that's where pockets of liquidity exist.
As a result allowing them to get the best average price by reducing the risk of slippage.
Finally below is a clear video about how you can trade with High liquidity levels.
What is liquidity in forex
Or want to know more about what is liquidity in forex?
So if you are a beginner trader and to become a good professional forex trader.
Want to know more about what is liquidity in forex?
The Forex Scalper teaches you the best scalping trading strategy using supply and demand zones.
Which are already traded and tested by thousands of TFS members and performs daily trades.
To become profitable from Beginner Trader and most successful Scalping trader in Supply and Demand.
So join THEFOREXSCALPERS and trade with 3500+ community traders with daily analysis and educations.
Which boosts your trading skills make you Professional Forex Market Trader.
======================
Results – Instagram
======================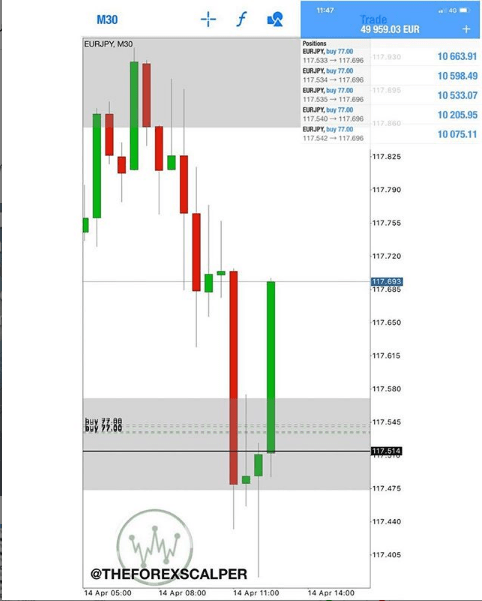 Looking for a Trusted Regulated Broker?
TheForexScalper recommends you join ICMARKET which is regulated and the most trusted broker.
They provide very tight raw spread account with fast execution and having multiples deposit and withdrawal options.