what is forex and how does it work
What is Forex and how does it work?
What is forex?
The foreign exchange market  "also known as forex or the FX market " is the world's most traded market, with turnover of $5.3 trillion per day.
So to put this into perspective, the U.S. stock market trades around $226 billion a day; quite a large sum, but only a fraction of what forex trades.
Firstly forex is traded 24 hours a day, 5 days a week across by banks, institutions and individual traders worldwide.
So unlike other financial markets, there is no centralized marketplace for forex, currencies trade over the counter in whatever market is open at that time.
How FX Trading Works? / what is forex and how does it work?
Trading forex involves the buying of one currency and simultaneous selling of another.
So in forex, traders attempt to profit by buying and selling currencies by actively speculating on the direction currencies are likely to take in the future.
Major Currency Pairs
The forex market is the most widely traded market in the world, with more than $5.3 trillion* being bought and sold every single day.
Traders will speculate on the future direction of currencies by taking either a long or short position, depending on whether you think the currency's value will go up or down.
Typically referred to as "The Majors", these seven currency pairs make up almost 80% of total daily trading volume*.
So as you'll see in the table below, the major currency pairs all include the U.S. Dollar (USD).
Minor Currency Pairs
What is forex and how does it work?
So while the major currency pairs make up the majority of the market, you shouldn't ignore the minors – also referred to as Cross Currency Pairs.
And the minor currency pairs account for all the other combination of major markets such as; EUR/GBP, EUR/CHF and GBP/JPY .
With so many options available, you're probably asking yourself – which currencies should I trade?
So a good rule of thumb for traders new to the market is to focus on one or two currency pairs.
Generally, traders will choose to trade the EUR/USD or USD/JPY because there is so much information and resources available about the underlying economies.
Not surprisingly, these two pairs make up much of global daily volume.
Or want to know more about what is forex and how does it work?
So if you are a beginner trader and to become a good professional forex trader.
Want to know more about what is forex and how does it work?
Forex Scalper teaches you the best scalping trading strategy using supply and demand zones.
Which are already traded and tested by thousands of TFS members and performs daily trades.
To become profitable from Beginner Trader and most successful Scalping trader in Supply and Demand.
So join THEFOREXSCALPERS and trade with 3500+ community traders with daily analysis and educations.
Which boosts your trading skills make you Professional Forex Market Trader.
======================
Results – Instagram
======================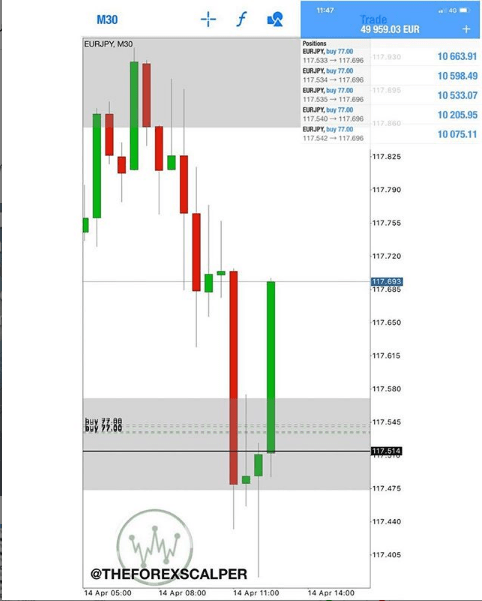 Looking for a Trusted Regulated Broker?
TheForexScalper recommends you join ICMARKET which is regulated and the most trusted broker.
They provide very tight raw spread account with fast execution and having multiples deposit and withdrawal options.
Please follow and like us: