When you're looking for an excellent investment opportunity, then you should read about forex trading because it offers investors a chance to gain a lot of money with limited investment. Currency trading is an exciting and potentially lucrative investment opportunity, but as with anything involving money, when you don't know what you are doing, there are people out there who will rob you blind. While forex trading continues to grow in popularity, forex scams are also growing in prevalence.
While there are several reputable Forex Brokers online, some fraudulent brokers are still luring traders into scams. A number of traders suffered enormous losses due to online forex broker scam activity. They invented very clever ways of cheating people and stealing their money. Educating yourself on all aspects of currency trading is one useful way to learn how to stop fraud for a beginner trader. Traders who are vigilant and informed about the forex market can identify if they see a scam online.
Forex scams include creating fraudulent customer accounts for revenue generation purposes, selling software to gain big customer income, false statements that customers make massive money, misuse of a customer's account, and fake ads. Forex promoters also trick investors into scams with various guarantees including their ability to forecast currency price rises and low-risk promises for high returns.
The Signal Seller is a common modern-day scam. Signal sellers are individuals who may be a retail company, a pooled fund manager, a managed account company, or an individual trader who offers to trade on the basis of expert advice that would make someone wealthy. They venture their long experience and trading skills with support from people who will virtually testify in court about how great the person is a trader and friend, and the vast wealth this person has earned for them. Some of these people only raise money from a certain number of traders and are gone.
Do you want to become Success Forex Trader? (No Signal REAL Education)
The Forex Scalper teaches you the best scalping trading strategy using supply and demand zones which is already traded and tested by thousands of TFS members and performs daily trades.
To become profitable from Beginner Trader and most successful Scalping trader in Supply and Demand join THEFOREXSCALPERS and trade with 3500+ community traders with daily analysis and educations which boosts your trading skills make you Professional Forex Market Trader.
======================
Results – Instagram
======================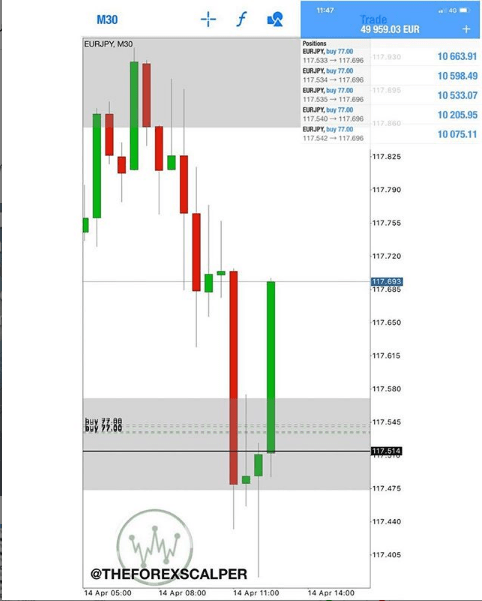 Please follow and like us: