How forex leverage works?
How forex leverage works?
Leverage works by enabling a trader with a lot more money than they have on their trading account.
Leverage is the use of borrowed money (called capital) to invest in a currency, stock, or security.
The concept of leverage is widely used in the world of forex trading.
But many traders do not know much about what leverage is in the beginning.
I am going to explain this to you in this blog.
And at the end of this blog, you will know exactly what leverage is and what it is used for.
Trade Size and Leverage.
How forex leverage works?
 Actually it is very simple, you borrow money from the broker, and you as a trader can take larger positions in your forex trades.
As a result, leverage magnifies the returns from favorable movements in a currency's exchange rate.
But using leverage can go both ways, which not only means that it can increase your profits but it can also increase your losses.
So investors use the leverage to increase profits in their trade.
As a matter of fact, the forex market offers one of the highest leverage amounts for the investors.
Some brokers can limit the amount of leverage with a starting/new account, but in most cases you as an investor can set which leverage you would like to use.
The broker will require a percentage of the trade's notional amount to be held in the account as cash, which is called the initial margin.

How forex leverage works?
The initial margin required by each broker can vary depending on the size of the trade.
If an investor buys $ 200,000 in EUR / USD, he may need to keep $ 2,000 in the account as margin.
In other words, the margin requirement would be 1% or ($ 2,000 / $ 200,000).
Let's say you have $100 in your trading account, with leverage of 1:1000. It implies that you can trade with volumes worth $100,000.
This way you can earn much more money with your trade. But also lose a lot more money if your trade does not turn out as hoped.
So the lower the margin requirement, the higher the leverage you can use on your trade.
A broker can of course always demand higher margin requirements depending on which currency you trade.
For example, the exchange rate between the Japanese yen and the British pound can be very volatile which means that it can fluctuate very much which can lead to large fluctuations in the market.
And then the broker will probably want more money as collateral for more volatile currencies and during volatile trading periods.
The Risks of using Leverage.

How forex leverage works?
Leverage helps you make money and grow your account fast, but it will also destroy your account fast.
Although it is attractive to be able to achieve large profits with leverage, it can of course also work against you.
For example, if the pair of yours trades in the opposite direction than what you thought was going to happen, the leverage will make your loss a lot bigger
To prevent this, you use good risk management with a correct stop loss.
To cut possible losses in time.
In this way you can still reasonably control these losses and keep them small.
So only trade with leverage that your trading system and strategy accommodates.
Because if you're not careful don't forget Leverage kills.
Do you want to become Success Supply and Demand Trader or want to know how to handle a losing trade?
If you are a beginner trader and to become a good professional forex trader. Want to know more about How forex leverage works? The Forex Scalper teaches you the best scalping trading strategy using supply and demand zones which are already traded and tested by thousands of TFS members and performs daily trades.
To become profitable from Beginner Trader and most successful Scalping trader in Supply and Demandjoin THEFOREXSCALPERS and trade with 3500+ community traders with daily analysis and educations which boosts your trading skills make you Professional Forex Market Trader.
======================
Results – Instagram
======================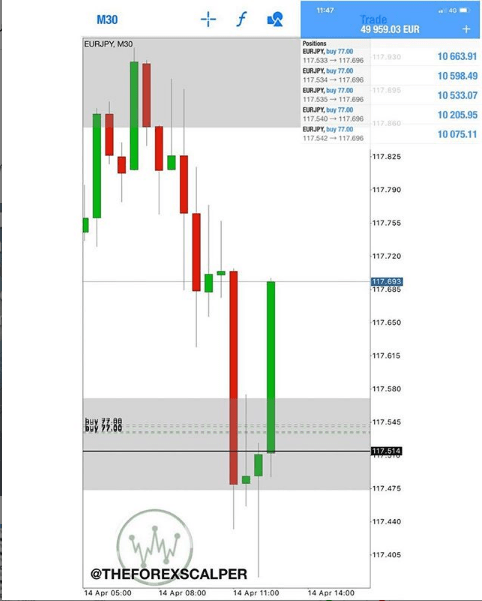 Looking for a Trusted Regulated Broker?
TheForexScalper recommends you join ICMARKET which is regulated and the most trusted broker. They provide very tight raw spread account with fast execution and having multiples deposit and withdrawal options.
Please follow and like us: