What is the Triangle Chart Pattern?
The triangle pattern is a particular figure created on the price chart, usually recognized as, like the sides of a triangle, the tops and the bottoms of the price action move towards each other. Traders foresee an eventual breakout from the triangle when the upper and the lower stage of a triangle interact. As such, for the identification of breakout entry points, many breakout traders use triangle formations.
On a Forex chart, there are various kinds of triangles that can be seen. You should know the difference between the formations before you jump into triangle trading. Now we are going to take a closer look at the different trends of the triangle chart and the associated trade setups. If you are armed with this knowledge, you should be able to add your trade setup arsenal to a triangle trading strategy.
Ascending Triangle Pattern:
This pattern of the triangle has its flat upper side and ascending the lower one. The tops of this triangle are on the same level in this way, and the bottoms are rising. Typically, this sort of triangle has a bullish character. You should be prepared to capture a bullish price change equal to at least the size of the triangle when you spot this triangle on the chart. Breakouts through the upper level are used in this manner to set entry points for long positions.
This is the shape of an ascending triangle pattern chart:
Descending Triangle Pattern:
The ascending and descending triangles are, as noted earlier, a mirror opposite of each other. As such, it has the opposite feature of the descending triangle pattern. Below the market action, the flat side of the descending triangle. The triangle's upper side is bent downwards. The downward triangle has a bearish potential equal to at least the size of the trend in a bearish market. The descending triangle is then used to open short positions after its lower (flat) side has been broken by the price.
This is the shape of a descending triangle pattern chart:
Want to become Success Forex Trader?
If you are a beginner trader and to become a good professional forex trader. The Forex Scalper teaches you the best scalping trading strategy using supply and demand zones which is already traded and tested by thousands of TFS members and performs daily trades.
To become profitable from Beginner Trader and most successful Scalping trader in Supply and Demandjoin THEFOREXSCALPERS and trade with 3500+ community traders with daily analysis and educations which boosts your trading skills make you Professional Forex Market Trader.
======================
Results – Instagram
======================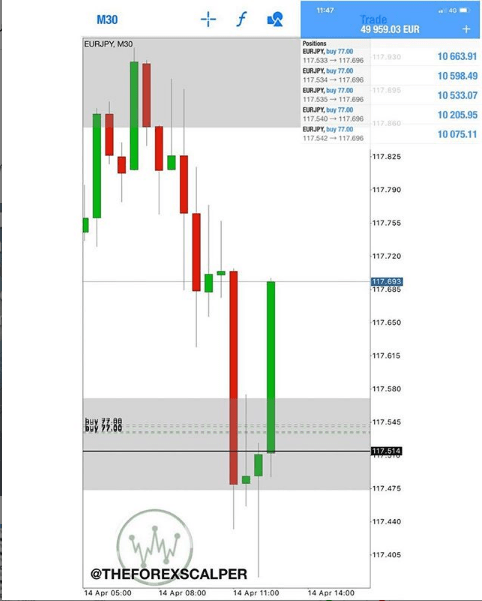 Looking for a Trusted Regulated Broker?
TheForexScalper recommends you join ICMARKET which is regulated and the most trusted broker. They provide very tight raw spread account with fast execution and having multiples deposit and withdrawal options.
Please follow and like us: