As Forex traders in a 24-hour trading market, we are definitely forced to cope with a good deal of stress and pressure from trading. Many times this tension is compounded by stretches of losing streaks and difficult patches. But ultimately, it is the coping strategies used to cope with the stress the ultimately decide our ability to find a stable and productive Forex course. Considering the fast-paced nature of the forex market and its potential for monetary loss, it is not surprising that many FX traders are under tremendous pressure.
The career of a good trader depends primarily on his or her psychological stability in stressful circumstances which are normal in the trading cycle. Technical literature may be learned theoretical knowledge; practical skills and experience are gained in the actual trading process. The most challenging method is to change the psychological stress since the emotional element affecting human behavior can not be completely removed in real life and that's the fact.
Underestimating the stress factor in real Forex trading situations may play a major role in traders and even fully block their ability to make sound decisions. In the forex market, the psychological burden of those dealing is extremely high. Traders in highly unpredictable and uncertain market situations have to work under permanent psychological pressure to make decisions. Each trader goes their own way through errors, failures, and losses, depending on their personality and temper.
A trader will also make insufficiently thought, impulsive and ultimately wrong decisions resulting in losses or premature liquidation of profitable positions, being permanently under pressure. Often, the market is afraid after a few consecutive failures with different market traders. They 're in a state of psychological distress and fear may also be triggered by a simple Forex market situation. They can not surmount their feelings or assess their present condition soberly, so they can not make any sound decisions.
To become a profitable and most successful Scalping trader in Supply and Demand join THEFOREXSCALPERS and trade with 3500+ community traders with daily analysis and educations which boost your trading skills make you Professional Forex Market Trader.
======================
Results – Instagram
======================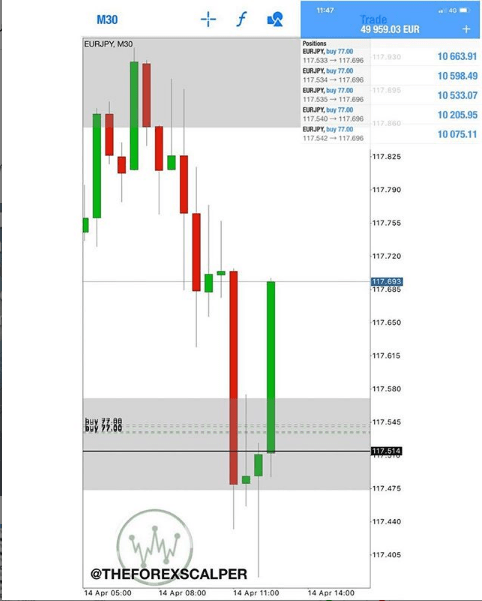 Please follow and like us: