Forex trading is a career in which you can persuade yourself that you are never doing your job. There's always another chart to read, an economic report to digest, or to create or test a new trading strategy. When we think of trading, the first thing which comes to mind is money. How much money am I able to earn? In order to start trading, how much money do I need? How much money am I supposed to pay per trade? The more time you spend in front of the screen, the more cash you receive, you might think. But our success doesn't actually benefit from the time we spend in front of the markets.
If you stare continuously at the charts, not only will you damage your eyes, but you're going to go slightly mad. Don't be afraid to take breaks regularly. Just make sure you have fair stop losses in place when you do, or no open trades at that stage. When Forex scalping or intra-day trading, this is more critical than longer position trades where you need to monitor your trades. Yes, you might miss the occasional opportunity, but in a market that does not sleep, this is inevitable.
If you are a seasoned forex trader, challenging yourself to meet higher and higher standards of excellence will deliver higher levels of results. But if you are an inexperienced trader, pushing yourself beyond your limits usually leads to frustration, tension, and eventual exhaustion. When you push yourself to the point where you feel pressure, stop, and take a break. Consider the limits and relax. Ironically, you'll feel a little increase in energy and suddenly feel empowered.
Those on the path to becoming a profitable trader with high consistency in the execution of effective strategies, needless to say, their lives are extremely hectic. They have to sit down, read charts, analyze the market, find opportunities, and then make their moves, even when they are not trading. It's quite common to quickly get burned-out. At such times, when they have to make an important decision, they reach a point. Should they continue or take a break? For safe and optimal trading, taking a break and walking away from screens is necessary. Find time to get away from markets every day and recharge your mental level.
In any form of sport, as you practice your muscles, you stretch your muscles out further and strengthen them. But building your muscles with training alone can't happen. To enable them to rebuild and to become stronger, rest is needed. In forex trading, the same works: you need time to absorb the strength you have experienced. And you will need time to clean your head. It doesn't matter whether you have already been a full-time skilled trader or not. Taking a trading vacation will certainly help you to clean your brain. But you don't need a full holiday all the time: just some time off. And you will be more focused and accomplish more in less time when you are back.
Do you want to become Success Supply and Demand Trader?
If you are a beginner trader and to become a good professional forex trader. The Forex Scalper teaches you the best scalping trading strategy using supply and demand zones which is already traded and tested by thousands of TFS members and performs daily trades.
To become profitable from Beginner Trader and most successful Scalping trader in Supply and Demand join THEFOREXSCALPERS and trade with 3500+ community traders with daily analysis and educations which boosts your trading skills make you Professional Forex Market Trader.
======================
Results – Instagram
======================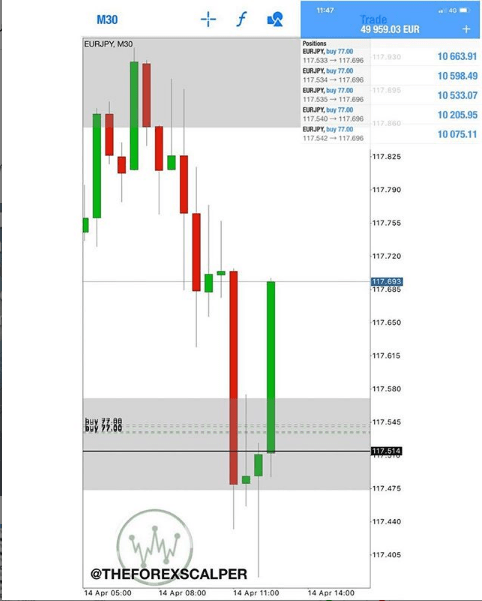 Looking for a Trusted Regulated Broker?
TheForexScalper recommends you join ICMARKET which is regulated and the most trusted broker. They provide very tight raw spread account with fast execution and having multiples deposit and withdrawal options.
Please follow and like us: