Probabilities describe the probability of something happening. Trading probabilities are often discussed, but there is an abysmal capacity for humans to understand and calculate probabilities. Forex has much to do with risk analysis and probability. No single method or style is available that will generate profits all the time. The secret to success is to position ourselves so that the losses, while the gains are compounded, are harmless. Such a positioning is only possible in accordance with an understanding of probability and risk management by managing our risk allocations.
When traders claim they trade the odds or that you need to do that, they generally mean that even though you have a few losing trades over the short term, you can make money as long as you have a 'winning' system. In essence, that's a positive Forex strategy and the correct mindset to be in; just concentrate on making the best trades, and you'll come out ahead for the long term. You have to create for yourself a structured trading environment for long-term success that allows you to have consistent results. This does not mean that you will have profitable trading outcomes immediately, but over time, you will be able to make targeted changes and gradual improvements.
If there is anything that is certain when trading in the financial markets, nothing is certain! Over a long period of time, such as a month or quarter, or year, traders must force themselves to analyze their performance. This applies to all types of traders, including forex trading, CFD trading, commodities, stock indices, etc. Therefore, knowing the exact probability of one set up will never be known exactly. But this is not something that we traders should be calling for. Instead of concentrating on short-term gains, evaluating the long-term success of your trading system or discretionary technical analysis is recommended.
In fact, experienced traders usually talk about probabilities and typically have some form of analysis to support their views. No one can claim that, with utter certainty, a particular currency pair would shift to an exact point. In fact, it feels it is naive to think that anyone can predict the direction of a currency pair with absolute certainty over a given period of time. Often you might be right if you assume that a pair would move to level with utter certainty. There will be other times, however, when the market is not going your way. Therefore, we have to deal with probability.
The understanding probability will really help you gain a grip on reviewing prospective strategies and systems for trading. Professional traders are not concerned if they will win or lose the next trade. What they care about, in the long term and over time, is making money. By playing with mathematics, by thinking about probabilities, they want to increase their profits. When starting traders hang their whole psychology, trust, and success on the next trade, you have to look at the next one as just one free throw in the thousands you're going to makeover time.
Do you want to become Success Supply and Demand Trader?
If you are a beginner trader and to become a good professional forex trader. The Forex Scalper teaches you the best scalping trading strategy using supply and demand zones which is already traded and tested by thousands of TFS members and performs daily trades.
To become profitable from Beginner Trader and most successful Scalping trader in Supply and Demand join THEFOREXSCALPERS and trade with 3500+ community traders with daily analysis and educations which boosts your trading skills make you Professional Forex Market Trader.
======================
Results – Instagram
======================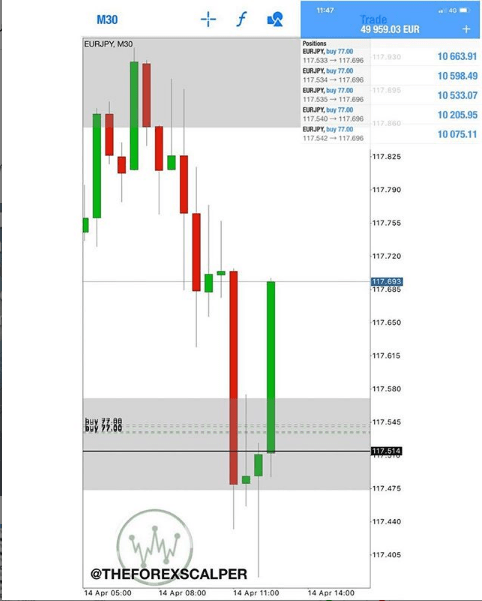 Looking for a Trusted Regulated Broker?
TheForexScalper recommends you join ICMARKET which is regulated and the most trusted broker. They provide very tight raw spread account with fast execution and having multiples deposit and withdrawal options.
Please follow and like us: