How to trade forex for beginners.
Before we talk about how you can trade Forex, I will first tell you a bit more about what the Forex market is exactly.
What is Forex? / How to trade forex.
Forex is short for Foreign Exchange.
Think of that moment at the airport when you make an international trip to one of your favorite holiday spots.
You can't pay with your American Dollars (USD) in Paris (France).
So what do you need to do? Exactly, change your American Dollars (USD) for the local currency the Euro € (EUR).
Right in that moment you are a part of the biggest trading market in the world; the Foreign Exchange.
Of course, you are just a tiny part of it, as the Forex market has a trading volume of 5.3 trillion a day.
And no, there is nothing wrong with your eyes! 5.3 trillion a day!
Just to give an example of the opportunities laying ahead of you, note that the Forex market is active 24 hours a day and five days a week.
Since at some point of the day in some part of the world the stock market will be open for trading.
It starts at Sunday night at 11pm and goes until Friday night 11 pm.
All traders: companies, investors, banks and the small trader like you and I will be trading during this time.
I can hear you thinking: Do I have to go outside of my house to a local exchange market or a bank?
No, not at all. And that is the beauty of this game.
The only thing you will need to make a trade is a working laptop, with a good Wi-Fi connection and an online platform where you can make your trades.
That online platform is called a "broker".
The mostly traded currencies are the U.$. Dollar, The euro and the Japanese Yen.
A few other popular trading currencies are the British Pound, the Australian Dollar, the Swiss Franc, Canadian Dollar and the Swedish Krona.
You can trade them in every pair that you can think of.
The whole basis of the market is to buy and sell a certain pair, which means you are predicting the strength of one currency against another.
For example, the EUR/USD is the most popular pair. But you can also trade the GBP/SEK.
This is the British Pound dancing with the Swedish Krona, and the GBP/SEK price represents how many
Swedish Krona you can get in exchange for one British Pound.
Now that we understand this a little better I will now tell you how to start trading Forex yourself.
-First we choose a Forex pair. / How to trade forex.
When trading forex you are exchanging the value of one currency for another. In other words, you will always buy one currency while selling another at the same time.
That's why we always trade currencies in a pair.
You can trade any pair you want. But if you are just starting to trade, many novice traders choose to trade with some more famous pairs such as EUR / USD.

-Make an analysis.
Of course you also need an analysis to be able to make a trade.
If you do not make a correct analysis then you just gamble and the chance that you will lose a trade is many times greater.
Unless of course you are always lucky!
I always make an analysis based on the Supply and Demand strategy.
You can find this in several blogs on my site.
You can also learn everything about Supply and Demand extensively in my course.

-Choose your position. / How to trade forex for beginners.
If you've traded stocks or other financial products, you know that you can usually only speculate on the one direction of the market and that is up.
With Forex this works slightly differently and we can go up but also down.
In other words you can buy and sell.
With a buy position you believe that the value of the base currency will rise compared to the quote currency.
If you're buying USD/JPY, you believe the price of the DOLLAR will strengthen against the YEN.
With a sell position you believe that the value of the base currency will fall compared to the quote currency.
If you're selling USD/JPY, you believe the price of the DOLLAR will weaken against the YEN.

Do you want to become Success Supply and Demand Trader or want to know more about how to trade forex for beginners?
If you are a beginner trader and to become a good professional forex trader. Want to know more about How forex leverage works? The Forex Scalper teaches you the best scalping trading strategy using supply and demand zones which are already traded and tested by thousands of TFS members and performs daily trades.
To become profitable from Beginner Trader and most successful Scalping trader in Supply and Demandjoin THEFOREXSCALPERS and trade with 3500+ community traders with daily analysis and educations which boosts your trading skills make you Professional Forex Market Trader.
======================
Results – Instagram
======================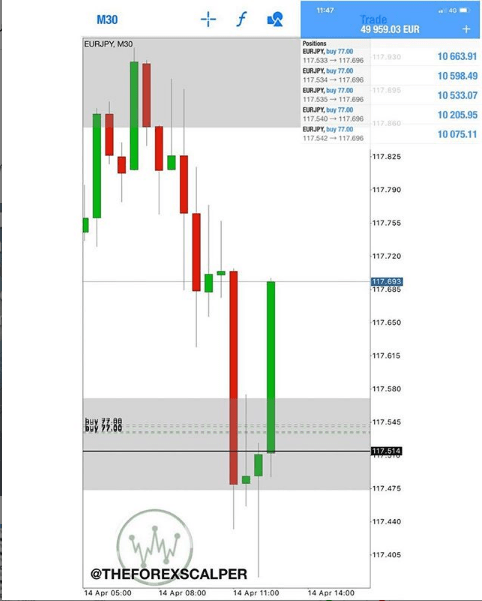 Looking for a Trusted Regulated Broker?
TheForexScalper recommends you join ICMARKET which is regulated and the most trusted broker. They provide very tight raw spread account with fast execution and having multiples deposit and withdrawal options.
Please follow and like us: