There is one sensation that Forex traders hate universally because of losses, the frustration of watching a losing trade turn deeper and deeper toward them would probably be. Unfortunately losses are an unavoidable part of forex trading and if you can't recognise that, you can't boost your trades or become a reliably successful trader. There's no point in being obsessed with a high winning percentage, instead, you have to concentrate on improving your trading skills and seeing the bigger picture.
Why You Should Accept Losses in Forex Trading?
You need to make a few changes to the way you trade to become a good trader. You will greatly boost your trades by making a few changes to the way you trade. There are countless traders out there with no financial experience, but the forex market is reliably profitable. These people adopt a few important Forex strategies which allow them to focus with passion, commitment and dedication on their trades.
When most retail traders go through periods of many trading losses, particularly bigger losses, they 'd get into revenge trading, they even enter trading based on nothing, not even high-probability setups. All this because they assume the final trade can now hit and bring the account back to profitability. Unfortunately the reverse occurs in most situations. After being wiped out, it can leave the retail trader without trading capital or with only a small sum as trading capital.
While some traders may benefit from forex trading on a regular basis, others are struggling to achieve the same level of success. Traders who are consistently effective can manage trading losses effectively, take them in phase and move on with ease with the next deal. They are comfortable with loss times, and are able to trade effectively with ongoing control, despite the losses that occur. By training themselves and working regularly, these traders are constantly seeking to develop their trades.
Do you want to become Success Forex Trader?
The Forex Scalper teaches you the best scalping trading strategy using supply and demand zones which is already traded and tested by thousands of TFS members and performs daily trades.
To become profitable from Beginner Trader and most successful Scalping trader in Supply and Demand join THEFOREXSCALPERS and trade with 3500+ community traders with daily analysis and educations which boosts your trading skills make you Professional Forex Market Trader.
======================
Results – Instagram
======================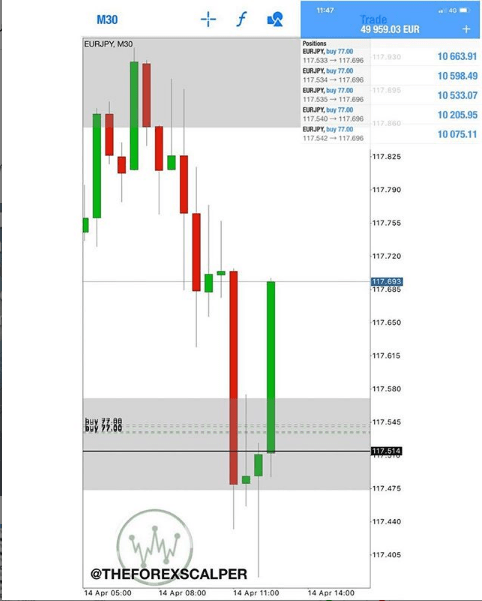 Please follow and like us: