The Forex market is open 24 hours a day, 5 days a week, to business around the clock. The Forex market is a de-centralized global market for currency trading. This covers all aspects of the acquisition, sale and exchange of currencies at existing or fixed rates. It is by far the largest market in the world, in terms of trade volume. The larger foreign banks are the principal participants in this business. Financial centers around the globe serve as trading hubs between a wide variety of different types of buyers and sellers around the clock, except weekends.
A single market exchange does not dominate the foreign exchange markets, but includes a large network of computers and brokers from all over the world. Central banks are using their vast buying and selling resources to adjust exchange rates through their open-market operations and will do so in many cases not with profit in mind, but for a number of policy reasons. Forex brokers also serve as market makers, and can post an offer and ask prices for a currency pair that varies from the market's most competitive offer.
Numbers of Beginner Forex traders have entered the moving market they don't know about the liquidity in market. They watch different economic calendars and trade voraciously on every data update, seeing the foreign exchange market 24-hours day, 5 days a week as a convenient way to trade the entire day. Not only can this technique easily deplete a trader's reserves, but even the most successful trader will flame out. Unlike Wall Street, which operates on regular business hours, the Forex market operates all day and night on the usual business hours of four different parts of the world and their respective time zones. And provide maximum number of liquidity in Forex market.
The Most Liquidity providers are major banks and financial companies which take their position during the initiation of the buy or sell transactions. They provide maximum number of liquidity in London session and New York Session because there is more volume in these sessions. The brokers charges all traders transactions on the inter bank market. The more liquidity provide by the demand and supply of the currency. The Forex brokers don't care if you are making money on trade or not after you entered to trade in inter bank market as they earned his commission and they provide liquidity to the Forex market.
Forex Trading Sessions Time:
Asian Trading Session 21:00 — 8:00 (GMT)
European Trading Session 8:00 — 17:00 (GMT)
North American Trading Session 13:00 — 22:00 (GMT)
Do you want to become Success Forex Trader?
The Forex Scalper teaches you the best scalping trading strategy using supply and demand zones which is already traded and tested by thousands of TFS members and performs daily trades.
To become profitable from Beginner Trader and most successful Scalping trader in Supply and Demand join THEFOREXSCALPERS and trade with 3500+ community traders with daily analysis and educations which boosts your trading skills make you Professional Forex Market Trader.
======================
Results – Instagram
======================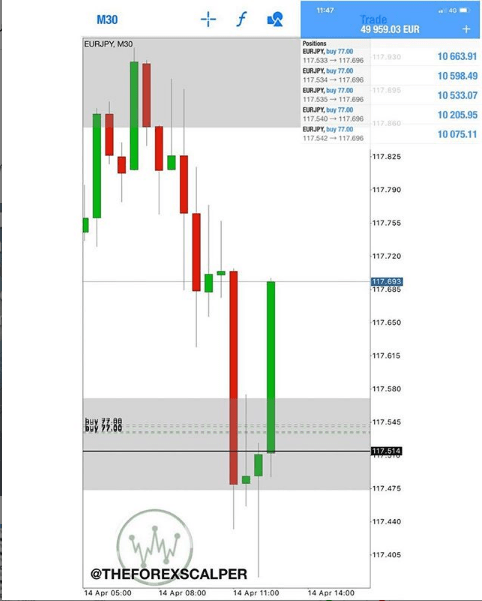 Please follow and like us: