Most forex market traders tend to deposit their trading capital in hopes of turning their invested amount into profit with a forex broker, but soon realise it's not as easy as it seems to trade forex. Here is where a demo trading account can help traders get to know the forex market. A demo trading account can provide valuable insight into the world of forex trading and can give beginners the confidence they need to start real trading. A demo account can be a useful training tool when used correctly which will give them the basic knowledge they need.
Demo trading accounts offer traders a risk-free trading environment. This is especially useful to beginners in forex trading since it lets them get used to the markets. In addition to the above, a demo trading account may also be used to trade the various instruments offered by the broker. Although spreads and/or commissions may vary, they closely mirror the real trading environment. In this respect, a demo account may also be used to test the trading conditions of the Forex broker.
If the traders are comfortable with the requirements of demo trading, they can then switch to real account trading(Demo vs Real) . Traders should then apply for a micro forex account that will help them reliably gauge with the broker the current trading conditions as well as the business outlook. This method of moving from demo to live real trading will seem simple, and merely an administrative move. But in fact, it can be one of the most difficult times that you can face as a trader.
Traders are always dismayed to discover that having made strategy to a real account, their plan that was extremely lucrative on a demo account just doesn't work anymore. Certainly, demo trading but at the end of the day, if you don't hop in and get your feet wet, you'll never develop the technical skills you need to survive on the market. Much as a pilot can't spend his or her life in the flight simulator and a doctor can't remain in the treatment lab indefinitely, if you want to excel in real-world investing, you can't sit on a real account for too long.
Do you want to become Success Forex Trader?
The Forex Scalper teaches you the best scalping trading strategy using supply and demand zones which is already traded and tested by thousands of TFS members and performs daily trades.
To become profitable from Beginner Trader and most successful Scalping trader in Supply and Demand join THEFOREXSCALPERS and trade with 3500+ community traders with daily analysis and educations which boosts your trading skills make you Professional Forex Market Trader.
======================
Results – Instagram
======================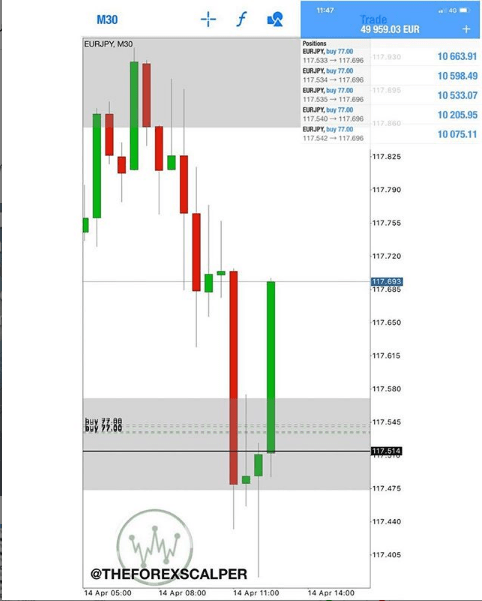 Please follow and like us: