The forex market is working just like other financial markets. Currencies are sold and purchased at the current cost. The price of a currency is called the exchange rate with respect to another currency. Since the U.S. dollar is the currency that dominates financial markets, the exchange rates are often reflected in US dollars. It is calculated by supply and demand except when the exchange rate is capped or fixed, or when the rate is set by the Government. The kind of exchange rate under which different market factors come into play is called the floating exchange rate.
Financial companies work on the foreign exchange market and it works on many levels. Behind the scenes, banks turn to a limited number of financial companies known as "dealers," who are actively engaged in vast volumes of foreign-exchange trade. Most foreign exchange traders are banks, so this business behind the scenes is often referred to as the "interbank market," although some insurance companies and other financial firms are involved. Trades between foreign exchange dealers can be very high, with hundreds of millions of dollars volume involved.
Trading in the foreign-exchange market has never been a more demanding and exciting time. What started out as a local market now draws traders from around the world and from all levels of experience. The forex market exists mainly because of the need to ease or facilitate exchange of currencies. Exchange currencies are required, because the currency of one country is not recognised in another. Everywhere it takes currencies to promote the exchange in goods and services.
You can buy or sell one currency in the forex market to another. You are said to be "long" in that currency when you buy a currency, and when you sell a currency, in that currency, you are said to be "short." When one currency's value rises or falls relative to another, traders decide to buy or sell currencies in order to make money as the aim is to make a profit from their position. It is easy to put a trade in the foreign exchange market, and the dynamics of a trade are nearly identical with those found in other markets. Owing to the symmetry of currency transactions, you are still long in one currency at the same time, and short in another.
Do you want to become Success Forex Trader?
The Forex Scalper teaches you the best scalping trading strategy using supply and demand zones which is already traded and tested by thousands of TFS members and performs daily trades.
To become profitable from Beginner Trader and most successful Scalping trader in Supply and Demand join THEFOREXSCALPERS and trade with 3500+ community traders with daily analysis and educations which boosts your trading skills make you Professional Forex Market Trader.
======================
Results – Instagram
======================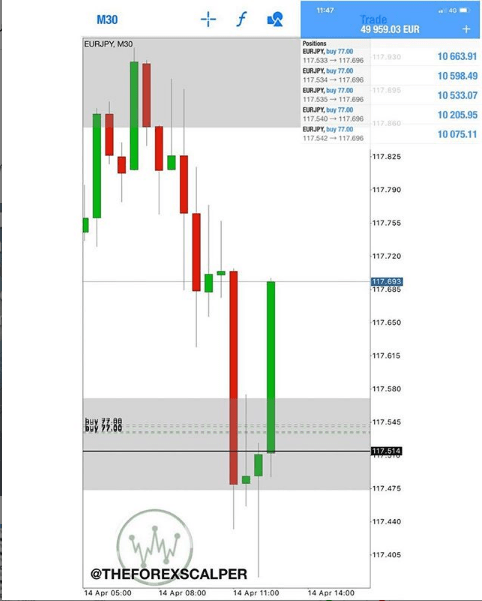 Please follow and like us: