Online forex trading course / Is it worth it?
You are probably interested in trading forex or you are looking for a good forex trading course but you are not sure what to do.
Because is a forex course worth it?
After all, we now live in a time when you can also find a lot of information for free on the internet.
I mean google and youtube are these times of information seeking our best friends.
So if you can easily find the discipline yourself to learn from all the free and good information you can find online then you should definitely do that.
But I also know from experience that because of all that information you sometimes no longer know where to start and how exactly you can find a good working strategy.
But now let's talk about the forex courses and training, are they worth spending your money on?
If we take a look around we can find forex courses, training and mentors everywhere.
We all know that the financial markets can be complex.
They offer a wide array of arenas and instruments one can trade.
There are all kinds of methods and techniques for identifying good trades and making money management decisions.
And there are scores of products and services intended to teach you how to play the market and/or help you do so.
While there certainly are some of dubious character operating in this field, as in any business,
the vast majority of the people providing such offerings are honourable folks with the best of intentions.
Most forex courses teach you to trade in the right steps and in the right order.
So if you are looking for a good Forex trading course, take a good look at what they teach you.
It is important that in addition to offering a strategy to be learned, you also learn the tricks of good risk / money management.
And don't forget that the psychological aspect also plays an important role.
What should you choose? Online forex trading course.
When choosing the right forex course you start by delving into the different strategies and techniques that exist.
If you have made a choice for yourself, you will of course look for the course or mentor that best suits your needs.
Then it is of course also important that you check whether there are reviews and experiences about the course or mentor so that you are not scammed.
We know, of course, that there are many good mentors and courses.
But unfortunately there are also a lot of scammers active in the world of learning to trade forex.
So watch out!
Conclusion

A good forex course or training is certainly worth it from my point of view.
Think of it as an investment in yourself.
It will all pay off later if you have completed the correct forex course.
You will immediately learn to trade in the right way and so you can reach your final goal faster.
But again immerse yourself in the experiences of others so that you do not lose money to a scammer!
When I had made my course I thought it was important to make all the separate elements into a whole.
Because I think I had the most trouble with that when I first started trading.
What worked for me and why am I making success in the forex market?
I have bundled all of this together in a book and a course.
With the intention to teach others to trade in the right way. We already have a lot of successful traders in the community.
That makes me proud!
Do you want to become Success Supply and Demand Trader or want to know more about Forex trading course?
If you are a beginner trader and to become a good professional forex trader. Want to know more about How forex leverage works? The Forex Scalper teaches you the best scalping trading strategy using supply and demand zones which are already traded and tested by thousands of TFS members and performs daily trades.
To become profitable from Beginner Trader and most successful Scalping trader in Supply and Demandjoin THEFOREXSCALPERS and trade with 3500+ community traders with daily analysis and educations which boosts your trading skills make you Professional Forex Market Trader.
======================
Results – Instagram
======================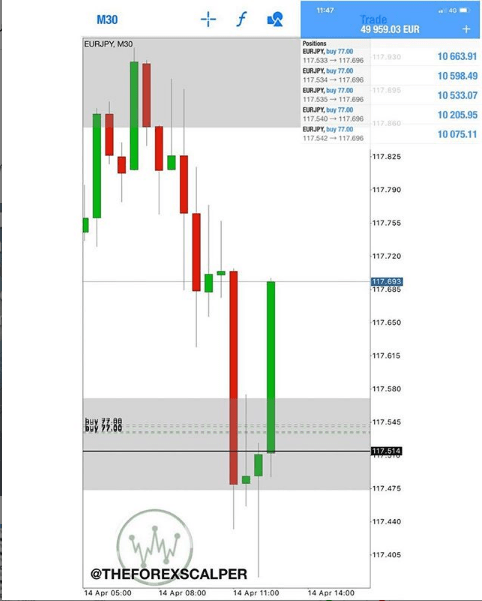 Looking for a Trusted Regulated Broker?
TheForexScalper recommends you join ICMARKET which is regulated and the most trusted broker. They provide very tight raw spread account with fast execution and having multiples deposit and withdrawal options.
Please follow and like us: