How to trade EUR / USD?
I think EUR / USD is one of the most traded pairs worldwide.
I do not trade this pair that much, but that does not mean that it is not a nice pair to trade.
The pair moves very differently than for example GBP / JPY and if you like a bit more relaxed trading then EUR / USD could really be your pair to trade!
Many swing traders like EUR / USD as it moves or not as fast as GBP / JPY, but in the longer term this pair can get you a lot of pips.
The behavior of EUR / USD. – How to trade EUR / USD?
EUR / USD makes a lot less fake outs and is therefore also a pair that is good for a novice trader to trade.
Especially if you want to start off a bit more slowly and don't want to burn your fingers on a more manipulative pair like GBP / AUD for example.
If you are a bit more impatient as I can sometimes be, I don't think EUR / USD is your pair to trade.
A trade on this pair can sometimes take a long time to reach your TP.
But once EUR / USD moves, it can also move quickly.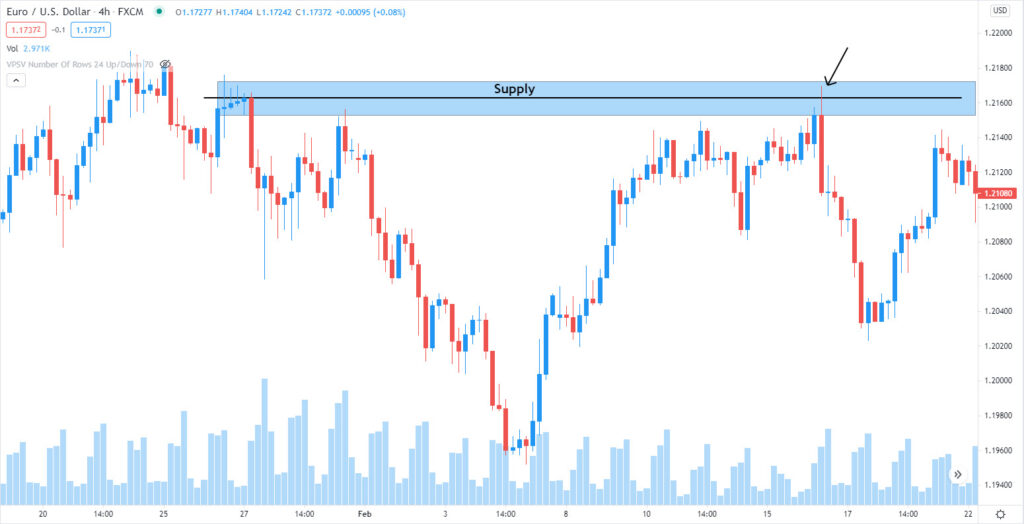 How to trade EUR / USD?
Above we see the EUR / USD Chart on the h4 timeframe.
We see here that EUR / USD actually quickly gives a rejection in the Supply zone and then also comes down.
We do not see any Fakeout and that is also something you rarely encounter on EUR / USD.
Waiting for a possible fake out is therefore not recommended for this pair.
In general, EUR / USD moves very smoothly between the zones.
What can sometimes make it a bit dangerous when you are going to scalp this pair is that this pair tends to get into consilidation more.
Which in turn ensures that your trade can still go in all directions after the consalidation.
EUR / USD is a very attractive pair for swinger traders.
Because once EUR / USD goes into a certain direction, this pair often keeps going for a while.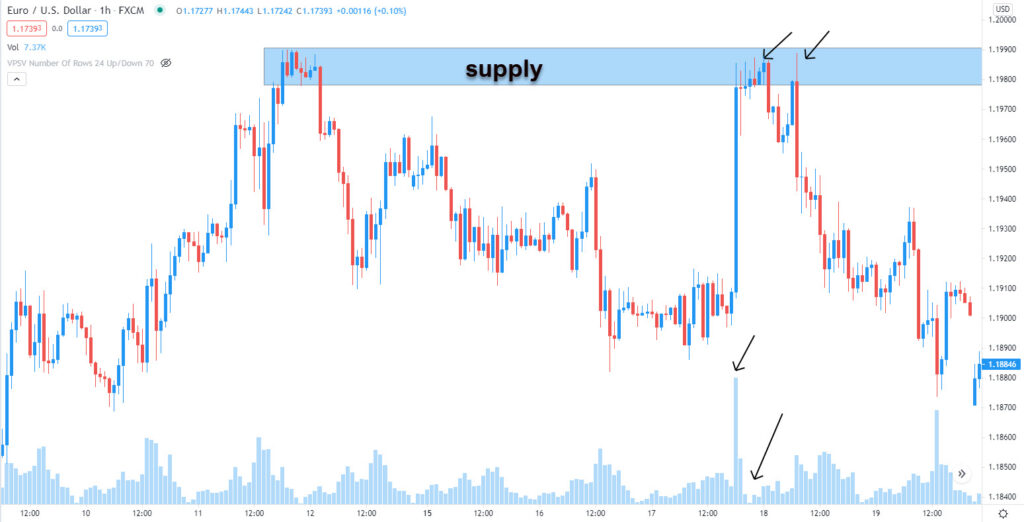 How to trade EUR / USD?
Conclussion
Above, I have posted another EUR / USD chart on the h1 timeframe.
We see here again how EUR / USD approaches the zone and does not shoot through.
But actually rejects the zone twice and comes back down.
And if you paid attention in the previous blog, you can also see here how the price got into the zone with high volume.
And we know what indication that volume bar can give right?
To be able to see and recognize this, it is better not to have lists of forex pairs open in the beginning.
Preferably choose 3 and get to know them completely.
You often see the behavioral patterns of a specific couple very well.
And so you can learn to trade better.
The trick is not the more the better but the less the more winning trades you will eventually make.
Besides what I have now explained, you should of course pay attention to more things before taking a trade.
Do you want to know what exactly? You will learn all this in the course, but applying it will take some practice.
If you are a beginner trader and to become a good professional forex trader. Want to know more about How forex leverage works? The Forex Scalper teaches you the best scalping trading strategy using supply and demand zones which are already traded and tested by thousands of TFS members and performs daily trades.
To become profitable from Beginner Trader and most successful Scalping trader in Supply and Demandjoin THEFOREXSCALPERS and trade with 3500+ community traders with daily analysis and educations which boosts your trading skills make you Professional Forex Market Trader.
======================
Results – Instagram
======================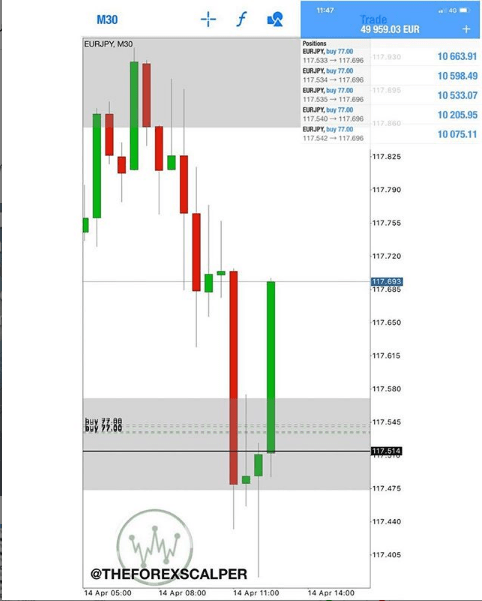 Looking for a Trusted Regulated Broker?
TheForexScalper recommends you join ICMARKET which is regulated and the most trusted broker. They provide very tight raw spread account with fast execution and having multiples deposit and withdrawal options.
Please follow and like us: