How to use volume in Forex Trading?
A handy tool that I often use when trading Supply and Demand is volume.
Actually, I always have it there as confirmation for a possible trade.
But what exactly does the volume indicator tell you and how do I use the volume in my trades?
I'll tell you more about it in this blog.
For me it is important in my strategy to also keep an eye on the volume on the market and especially at certain Supply and Demand levels.
Because the volume can already tell you a lot or can even sometimes give a sign that the price could reverse at a particular Supply and Demand zone.
Just have a look at the image below.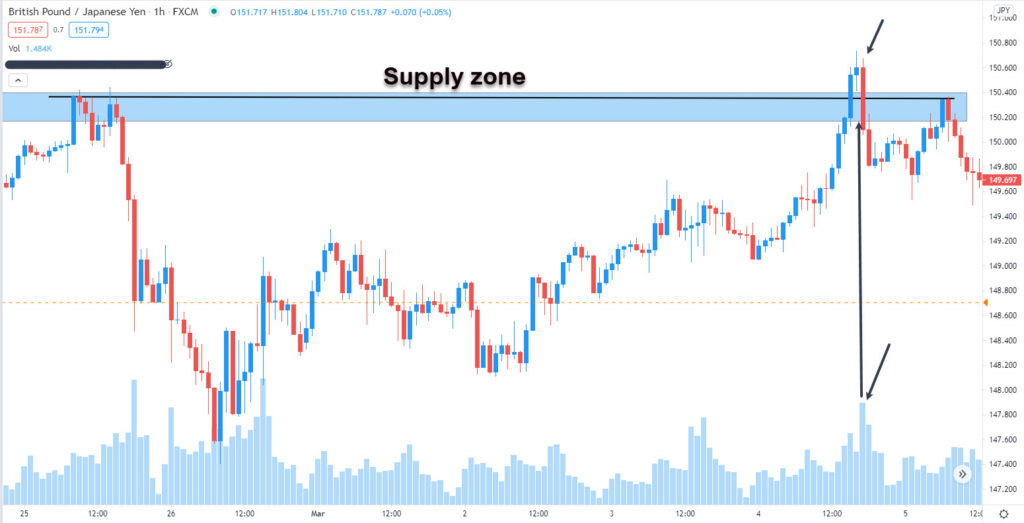 How to use volume in Forex Trading?
In the image above we see a nice Supply zone where the price comes for the first time.
And if we simultaneously look at the volume below, we also see that something is happening there.
The high volume already gives us an indication that the buyers are giving the last hard push up.
So this "may" be the first sign of a possible reversal and that the price will fall again.
I put "can" here in parentheses " because this is not a direct signal to go sell.
For this you have to confim a number of other things before you can determine whether this is a nice sell.
How to use volume in Forex Trading?
And so you can get much more prestige with the volume bar, such as possible fake outs.
Or that there is a bigger indication that price is breaking through the zone.
That's why I will always advise everyone to always use the volume bar in your charts.
It is a handy tool and can always give you more confirmation of a possible trade.
And sometimes also give an indication in advance which way the price could possibly go.
If you are already a member of the forex scalpers community, I will certainly recommend that you read the chapters about volume very carefully and apply them in your trading.
Are you not yet a member of the forex scalper community and do you want to know all the ins and outs about trading Supply and Demand in combination with the use of the volume bar? Then you can always join the course, I have explained everything clearly and step by step.
Do you want to become Success Supply and Demand Trader or want to know how to trade?
How to use volume in Forex Trading?


If you are a beginner trader and to become a good professional forex trader. Want to know more about How forex leverage works? The Forex Scalper teaches you the best scalping trading strategy using supply and demand zones which are already traded and tested by thousands of TFS members and performs daily trades.
To become profitable from Beginner Trader and most successful Scalping trader in Supply and Demand join THEFOREXSCALPERS and trade with 3500+ community traders with daily analysis and educations which boosts your trading skills make you Professional Forex Market Trader.
======================
Results – Instagram
======================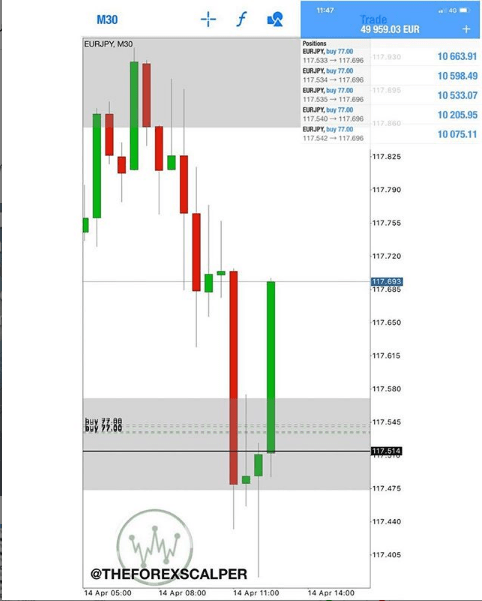 Looking for a Trusted Regulated Broker?
TheForexScalper recommends you join ICMARKET which is regulated and the most trusted broker. They provide very tight raw spread account with fast execution and having multiples deposit and withdrawal options.