Myfxbook forex.
Myfxbook is a very good website that offers various services.
Handy tools, charts and a whole community of different traders.
It not only allows you to exchange strategies, but also copy transactions.
And the ability to share the results from your online account.
How do you connect an account on myfxbook? Myfxbook forex
In this blog I will explain step by step how to connect your account on myfxbook.
Step 1: Register on myfxbook.
Register an account on the site.
It is available immediately on the main page on the right.
Set your username, password and accept the regulations.
After a second you will receive an activation link to the email in which you must click.
Step 2: Log in! / Myfxbook forex
Log In.
At the top of the page, enter your login details.
After logging in, go to the section Portfolio -> Add account  and then select again Add Account.
Step 3: Configuration. / Myfxbook forex
I will use the MetaTrader 4 platform and the broker IC Markets.
Options for MT4:
Publisher – data are published based on communication with the FTP server (update every 5 minutes, the most limited possibilities).
Auto update – data are updated on an ongoing basis via the server (every 5 minutes or less, depending on the load). It is the most convenient option to configure and use.
EA – by means of an automat running on the platform; is considered the least emergency, but at the same time requires installation and launching of EA.
I choose the option MetaTrader 4 (Auto Update) and enter the required data.
Configuration on MyFxBook:
Select a broker from the list.
Add the account name.
Enter the broker account number and investor's password.
Investor's password – it allows only and exclusively to view the account (without the possibility of concluding transactions). If your broker did not give it to you automatically, you can define them yourself on MT4. To do this, go to the section on the platform Tools -> Options -> Server -> Change -> Change investor password. To define the investor password, enter the master password.
Step 4 : Settings.
If you have filled in everything correctly, you will receive a notification on the MyFxBook website about adding your account to the site.
The results will be updated on a regular basis.
You can also change your account settings on the website MyFxBook -> Portfolio -> Add account-> Edit.
This is where you can change the description of the account, system or information about its configuration.
Step 5: Full verification. / Myfxbook forex
This is an additional option you can do to give more reliability to your fxbook.
It means that you are confirmed with myfxbook and you can also share your results.
-In the account settings on MyFxBook, go to the section Verification. Here you will find the authorization password (authorization password) determined by the service.
The previously defined investor password on the MT4 platform should be changed to this authorization password.
 -After changing the investor's password to MT4,
go back to MyFxBook and select Update password
Enter authorization password and confirm.
-Click here Connect, wait for the connection to be approved and you can now use the fully verified account!
Do you want to become Success Supply and Demand Trader or want to know more about Myfxbook forexMyfxbook forex?
If you are a beginner trader and to become a good professional forex trader. Want to know more about How forex leverage works? The Forex Scalper teaches you the best scalping trading strategy using supply and demand zones which are already traded and tested by thousands of TFS members and performs daily trades.
To become profitable from Beginner Trader and most successful Scalping trader in Supply and Demandjoin THEFOREXSCALPERS and trade with 3500+ community traders with daily analysis and educations which boosts your trading skills make you Professional Forex Market Trader.
======================
Results – Instagram
======================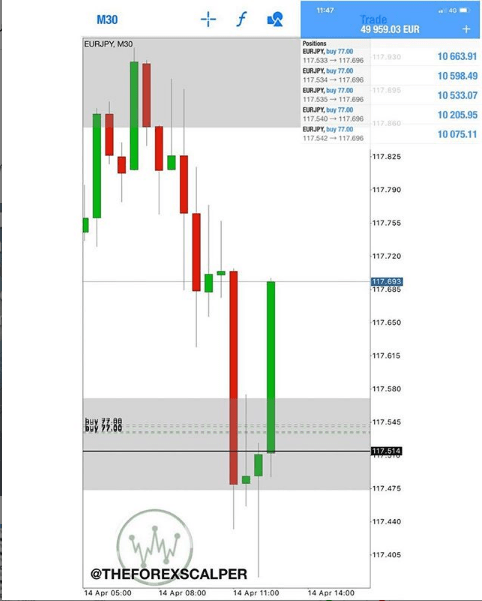 Looking for a Trusted Regulated Broker?
TheForexScalper recommends you join ICMARKET which is regulated and the most trusted broker. They provide very tight raw spread account with fast execution and having multiples deposit and withdrawal options.
Please follow and like us: