Supply and Demand simplified
It is very important in Forex trading that you understand the Supply and Demand aspect.
But what exactly is Supply and Demand if you explain it very simply?
And is Supply and Demand trading the same as Support and Resistance trading?
I want to talk about this in this blog.
So that you understand the aspect of supply and demand well and never forget it.
Supply therefore simply means the supply that is there and Demand the demand for what is there.
Demand – Supply and Demand simplified.
First, let's go into the Demand aspect a bit further.
Demand is simply the amount of a product that buyers are willing to buy at a given price.
Someone is more likely to buy less of something when the price goes up and to buy more of the product when the price goes down.
In short, we find it more attractive to buy something at lower prices and we also buy at lower prices.
Supply and Demand simplified
Above you see a Demand curve which shows the amount that people buy at certain prices.
Let's assume that the diagram represents the daily price and quantity of apples sold by farmers at a local market.
Note that as the price of apples goes down, buyer's demand goes up.
Thus, if a pound of apples sells for $0.80, buyers will be willing to purchase only fifteen hundred pounds per day.
But if apples cost only $0.60 a pound, buyers will be willing to purchase two thousand pounds.
At $0.40 a pound, buyers will be willing to purchase twenty-five hundred pounds.
Supply
Now that you understand Demand, let's talk about Supply.
Supply is the number of a product that sellers are willing to sell for a specified amount.
Businesses would rather sell a product when prices are high and less when prices are low.
Of course this makes sense you set up a business to make a profit and there is more profit to be made when prices are high.
Now we can construct a supply curve that shows the quantity of apples that farmers would be willing to sell at different prices, regardless of demand.
Supply and Demand simplified
As you can see the supply curve goes in the opposite direction from the demand curve: as prices rise, the quantity of apples that farmers are willing to sell also goes up.
The supply curve shows that farmers are willing to sell only a thousand pounds of apples when the price is $ 0.40 a pound, two thousand pounds when the price is $ 0.60, and three thousand pounds when the price is $ 0.80.
Equilibrium – Supply and Demand simplified.
Now that we have seen how Demand works and how Supply works, we have to bring them together.
We do this by plotting both the supply curve and the demand curve on one chart.
The point where the two curves meet is called the equilibrium.
At this point, buyers' demand for apples and sellers' supply of apples is in equilibrium.
Supply and Demand simplified
You can see that the supply and demand curves meet at the price of $0.60 and quantity of two thousand pounds.
Thus, $0.60 is the equilibrium price: at this price, the quantity of apples demanded by buyers equals the quantity of apples that farmers are willing to supply.
If a farmer tries to charge more than $0.60 for a pound of apples, he won't sell very many and his profits will go down.
If, on the other hand, a farmer tries to charge less than the equilibrium price of $0.60 a pound, he will sell more apples but his profit per pound will be less than at the equilibrium price.
Supply and Demand in Forex trading.
Understanding the concept of supply and demand makes it very easy to spot Supply and Demand zones in the charts.
While this would be in hindsight, it will give us a good indication of where to look for our trades in the future.
It is important to understand that the theory of supply and demand forex trading is based on analyzing and defining zones in the past.
These zones determine where we can expect the price to respond in the future.
Why should we expect a price reaction?
Let's get back to Apples and shoppers.
Say, for example, you could buy one Apple at a price of $1.
We have only five apples to sell, but buyers are asking for ten apples to buy.
So five apples were sold at $1, and no sellers were found for the five remaining orders.
Remember these five unsatisfied orders for later.
Obviously, the price would jump up to $1.50 per apple to attract more producers to provide more supply.
Later on, supply exceeds the buyer's willingness to pay for the expensive apples, and the price drops back to $1.
The five orders at $1 per apple are assumed to be there waiting.
Their request will be filled immediately, as they are first in line for apples at the rate of $1.
Something similar happens in the Forex market.
When the price changes, we can assume a high likelihood of unfilled orders.
These orders are waiting and they will be the first to be executed once the price returns for the first time to the demand level of $ 1.
I hope that I have now clarified exactly what the concept Supply and Demand is.
If you are a beginner trader and to become a good professional forex trader. Want to know more about How forex leverage works? The Forex Scalper teaches you the best scalping trading strategy using supply and demand zones which are already traded and tested by thousands of TFS members and performs daily trades.
To become profitable from Beginner Trader and most successful Scalping trader in Supply and Demandjoin THEFOREXSCALPERS and trade with 3500+ community traders with daily analysis and educations which boosts your trading skills make you Professional Forex Market Trader.
======================
Results – Instagram
======================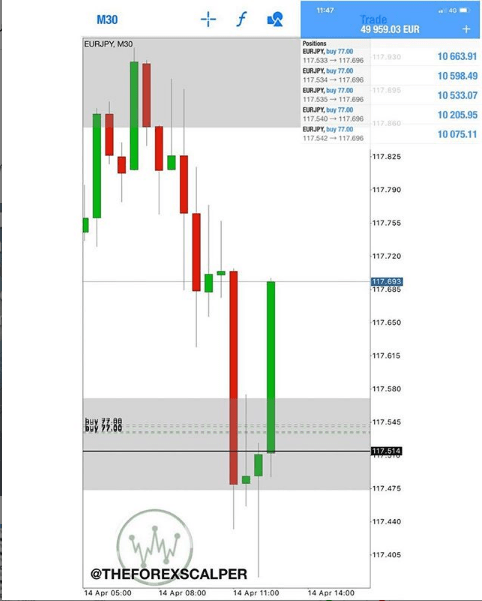 Looking for a Trusted Regulated Broker?
TheForexScalper recommends you join ICMARKET which is regulated and the most trusted broker. They provide very tight raw spread account with fast execution and having multiples deposit and withdrawal options.
Please follow and like us: