How to trade GBP/AUD?
How to trade GBP/AUD? The GBP / AUD pair is one of my favorite Forex pairs.
GBP / AUD may not immediately be one of the easiest forex pairs to trade.
And I certainly will not recommend this pair if you have just started trading Forex.
But once you get to know this pair behavior, you can't help but love it.
The behavior of GBP / AUD.
If you are used to trading EUR / USD you will say that on average this is a somewhat slower pair that also does not have much manipulation.
With GBP / AUD this is different and you can hardly do anything but wait for the manipulation before taking a trade.
It is a more aggressive pair that you will penalize if you take the trade too early.
But the advantage of this is that once you learn to recognize the behavior, it can also give you a lot of pips very quickly.
How to trade GBP/AUD?
Above we see the chart of GBP / AUD on the h1 timeframe.
From the Supply we can already see that GBP / AUD breaks the baseline twice and then comes back again and closes below the baseline.
For me this would already be a good indication of a possible sell position.
Of course we also pay attention to all other signals and do not immediately take a sell position on them.
The first time the price hits the baseline, you see that the price also goes down, but then up again.
This could probably mean an SL for some traders.
Therefore, always wait with GBP / AUD first and preferably let him get a little deeper into the zone before taking a possible Sell position.
The trick with GBP / AUD is to have a lot of patience and you should absolutely not be bothered by the FOMO.
And if we look at the demand level, we actually see exactly the same thing happening.
How to trade GBP/AUD?
m30 Timeframe
In the image above I have switched to the m30 time frame, here you can recognize the possible entries even better and take them even faster.
Do you see what I mean?
To be able to see and recognize this, it is better not to have lists of forex pairs open in the beginning.
Preferably choose 3 and get to know them completely.
You often see the behavioral patterns of a specific couple very well.
And so you can learn to trade better.
The trick is not the more the better but the less the more winning trades you will eventually make.
Besides what I have now explained, you should of course pay attention to more things before taking a trade.
Do you want to know what exactly? You will learn all this in the course, but applying it will take some practice.
If you are a beginner trader and to become a good professional forex trader. Want to know more about How forex leverage works? The Forex Scalper teaches you the best scalping trading strategy using supply and demand zones which are already traded and tested by thousands of TFS members and performs daily trades.
To become profitable from Beginner Trader and most successful Scalping trader in Supply and Demandjoin THEFOREXSCALPERS and trade with 3500+ community traders with daily analysis and educations which boosts your trading skills make you Professional Forex Market Trader.
======================
Results – Instagram
======================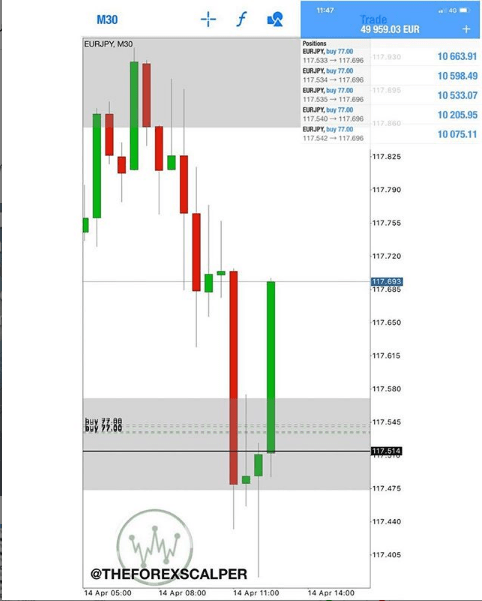 Looking for a Trusted Regulated Broker?
TheForexScalper recommends you join ICMARKET which is regulated and the most trusted broker. They provide very tight raw spread account with fast execution and having multiples deposit and withdrawal options.
Please follow and like us: