Exit Profitable Trades in Forex Trading.
Exit Profitable Trades in Forex Trading.
Many traders spend more time planning entrances than exits and considering them.
Most seasoned traders agree that trading success depends on how a trader exits their trades, while proper entries are necessary.
A reality of forex trading is that, instead of leaving the market at a pre-determined goal or through a pre-planned exit strategy.
Most traders take their gains as a result of an emotional impulse.
As a result, traders who exit an emotional trade normally take far lower profits than they would like.
While traders who exit a rational and disciplinary trade are generally very satisfied with the profits they make.
Establishing where to get out before a trade even takes place helps the trade to be measured with a risk/reward ratio.
The stop loss is just as important as the benefit goal.
The stop-loss calculates the potential loss for trades while the potential profit is determined by the profit goal.
The reward opportunity, ideally, should outweigh the risk.
While we will never decide which trades will be winners and which will be losers until we take them.
If our winning trades are greater than our losing trades, we are more likely to see an overall benefit over several trades.
Exit Profitable Trades in Forex Trading.
It is arguably more important to exit from trade than to entry, as the exit is what decides the profit.
The trader positions himself to theoretically lock in higher returns by discovering several methods of exiting a trade.
There are some helpful exit strategies, all of which are easy to execute and can be implemented in a trading strategy.
At the time of the trade, a stop-loss is put and worked out beforehand.
There are probably several ways to choose a stop-loss rate.
But essentially it must be at a place where the trader does not fairly expect the market to hit before placing the trader in a lucrative position.
That merely warrants compensation for the possible risk taken.
Looking at the reward/risk ratio of any trade is one of the most important forms of exiting profitable trade when assessing exit points.
Applying a reward/risk ratio guarantees exit points that are well-calibrated and pre-set.
The trade is avoided, which helps to prevent low-quality trades from being taken if the trade does not have a desirable reward/risk.
According to the plan, the position is closed at the target price.
Do you want to become Success Supply and Demand Trader?
Exit Profitable Trades in Forex Trading.
If you are a beginner trader and to become a good professional forex trader.
The Forex Scalper teaches you the best scalping trading strategy using supply and demand zones.
Which is already traded and tested by thousands of TFS members and performs daily trades.
To become profitable from Beginner Trader and most successful Scalping trader in Supply and Demand.
Join THEFOREXSCALPERS and trade with 3500+ community traders with daily analysis and educations which boosts your trading skills make you Professional Forex Market Trader.
======================
Results – Instagram
======================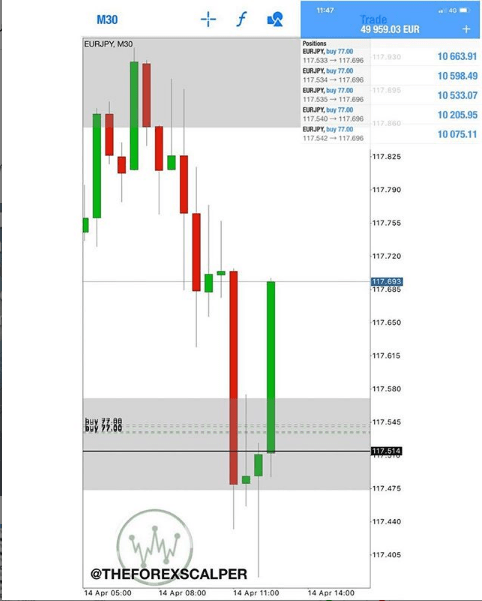 Looking for a Trusted Regulated Broker?
TheForexScalper recommends you join ICMARKET which is regulated and the most trusted broker.
They provide very tight raw spread account with fast execution and having multiples deposit and withdrawal options.
Please follow and like us: