How to trade US30?
The US30 tracks the performance of the 30 largest companies traded on the New York Stock Exchange.
Due to the nature of its composition, this index is often considered a benchmark of the overall performance of the US economy.
I am personally a big fan of trading US30 in addition to trading forex pairs.
It is especially nice to trade from the lows to the highs and from the highs to the lows.
Have you never traded it yourself?
Then it is highly recommended.
It is much less aggressive than gold, for example.
In this blog I will tell and explain a few things about trading US30.
And I hope that at the end of this blog you will understand a little more about the behavior of it and can apply it in your own trading.

Linechart. How to trade US30?
I'll start with the US30 line chart in the example above.
You see how the price ranks between the 2 lines for a while.
Before it finally breaks out of range again.
We see this behavior very often in US30 and this is also important to take into account.
Even if you look back in the past on the chart of US30, we often see these ranging patterns.
You can often take multiple trades in such a ranging period (Buy and Sells).
This is what makes trading it so attractive.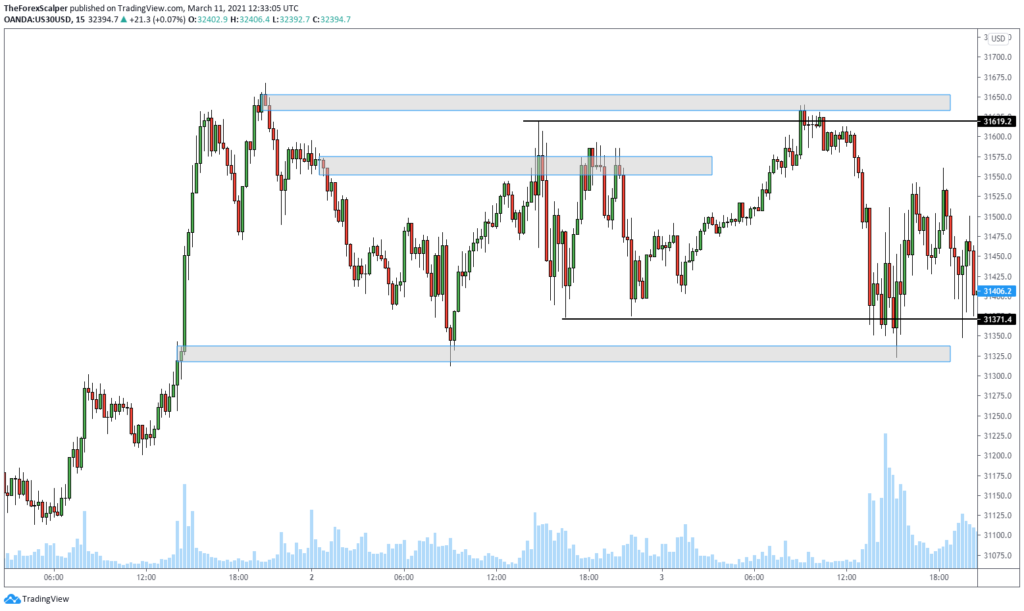 M15 Chart – How to trade US30?
Above I added the chart with the candlesticks and of course the Supply and Demand zones.
Do you see how many great trades you could have taken from the Supply and Demand zones in this ranging period?
Us30 does not make as many fake outs as gold, for example, so you have to pay attention to other things than gold.
What we pay particular attention to at US30 are the possible signs of a reversal in the Supply and Demand Zones.
Again, we pay attention to a number of points before we can take a possible Sell or Buy on US30.
For example, pay attention to the volume, do you see those higher spikes when it breaks through the zone at the top and then comes back down again?
These can often be signs of a possible reversal.
Of course you check this together with a few other important points.
We see above this supply zone is another important liquidity level / line where we know that the price will probably touch it first before the price will reverse again.
This is also an important point to consider before you buy or sell.
How to trade US30?
These are just a few of the points where I am all looking out for a trade open.
Many members also know how to recognize these and now use them.
Soon I will be blogging about the behavior of a specific forex pair.
Can't wait for that?
Then start the course now and I will explain everything in detail and if you use the code '15% off' you will now also get a 15% discount on the course.
Do you want to become Success Supply and Demand Trader or want to know how to handle a losing trade?
If you are a beginner trader and to become a good professional forex trader. Want to know more about How to trade US30?The Forex Scalper teaches you the best scalping trading strategy using supply and demand zones which are already traded and tested by thousands of TFS members and performs daily trades.
To become profitable from Beginner Trader and most successful Scalping trader in Supply and Demandjoin THEFOREXSCALPERS and trade with 3500+ community traders with daily analysis and educations which boosts your trading skills make you Professional Forex Market Trader.
======================
Results – Instagram
======================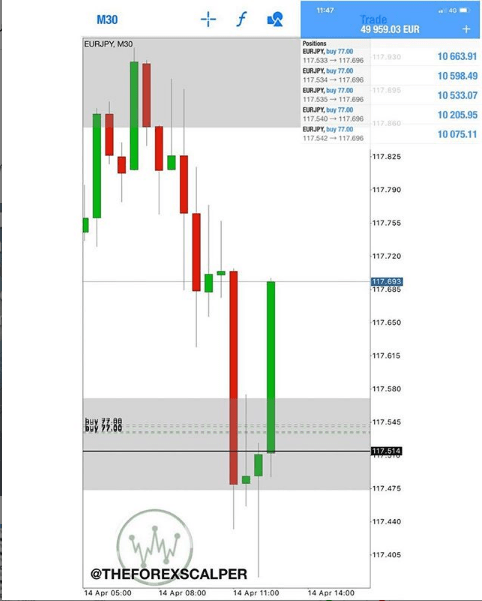 Looking for a Trusted Regulated Broker?
TheForexScalper recommends you join ICMARKET which is regulated and the most trusted broker. They provide very tight raw spread account with fast execution and having multiples deposit and withdrawal options.