Order Flow Forex Trading.
Order Flow Forex Trading
When it comes to order flow, many inexperienced FX traders prefer to think about volume bars.
It is much more than that, and it also helps to understand how markets promote the movement of orders.
If you trade stocks, futures, forex, or bitcoins, one thing affects financial systems like this: people's expectations about the future.
A limitless number of participants take action at any given moment (initiating trades or issuing orders) for an infinite number of reasons.
What is Order Flow Forex?
Order Flow forex actually means the amount of orders that are waiting to be executed at a certain price level.
For example, if we see that the price is coming up very strongly and has been bullish for some time.
We also know that there will come a time when the price will reverse again.
The fact that the price is rising so strongly is of course due to the fact that at that moment many more people would rather buy than sell.
And this creates an imbalance between buyers and sellers.
Eventually the buyers moment will be over and the price will have reached a point where there are more sellers.
Than buyers and the price will start to fall from there.
And a new imbalance is created because there are now more sellers than buyers, causing the price to go down again.
So this is the simple explanation for what happens daily on the Forex Market.
Order flow trading.
Order flow in forex trading. It's really not much more than Supply and Demand trading.
It's really just a very simple way to read the charts and if you spend a few hours behind the charts.
You will understand exactly what I mean.
So we look for moments in the chart where a big decision has been made when the price fell sharply or went up very sharply.
In short, in the places where a strong movement of the price happened.
This is the most important thing you need to know about Order Flow.
I can of course tell you a lot more about it.
Conclussion
Simplified, it's reading the history of charts to understand the story of where the buyers and the sellers are located.
You do not need indicators for trading with order flow forex.
And you can do this very easily with a simple chart.
Or want to know more about Order Flow forex?
So if you are a beginner trader and to become a good professional forex trader.
Want to know more about Order Flow forex?
The Forex Scalper teaches you the best scalping trading strategy using supply and demand zones.
Which are already traded and tested by thousands of TFS members and performs daily trades.
To become profitable from Beginner Trader and most successful Scalping trader in Supply and Demand.
So join THEFOREXSCALPERS and trade with 3500+ community traders with daily analysis and educations.
Which boosts your trading skills make you Professional Forex Market Trader.
======================
Results – Instagram
======================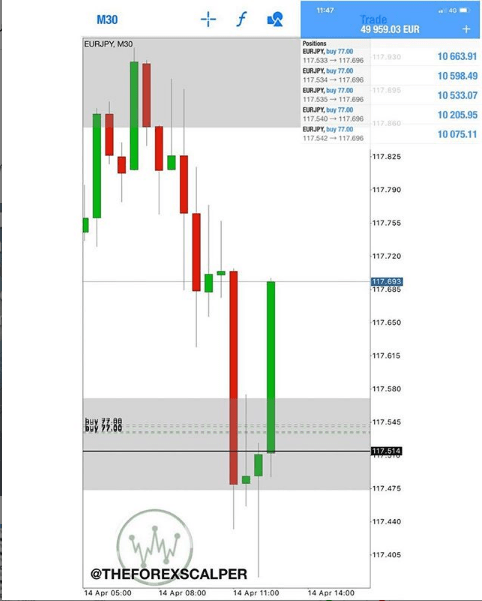 Looking for a Trusted Regulated Broker?
TheForexScalper recommends you join ICMARKET which is regulated and the most trusted broker.
They provide very tight raw spread account with fast execution and having multiples deposit and withdrawal options.
Please follow and like us: