When to enter a trade forex?
When to enter a trade forex?
For some and I think for many novice traders it is very difficult in the beginning to determine when exactly you open a position on the forex market.
Because this of course also depends entirely on the trading style and the strategy you use.
Everyone has their own style and approach.
That is why I am going to briefly explain to you in this blog today when I enter a trade with my style and strategy.
As most of you already know, I trade on a Supply and Demand basis.
And I also had trouble finding the right entries in the beginning.
But after a lot of testing and observation it is possible with time to make better and more beautiful entries.
When do I enter a trade?
Before I enter a trade I pay attention to a number of things and only when everything is correct do I enter the trade.
I pay attention to points such as what is the trend at the moment?
Am I taking a counter move now?
Or am I going with the trend?
Are there any other blocks nearby that could hinder my trade?
Did the price grab enough liquidity?
And so everything has to be right for me before i enter a trade.
In the image below I will explain what exactly I pay attention to.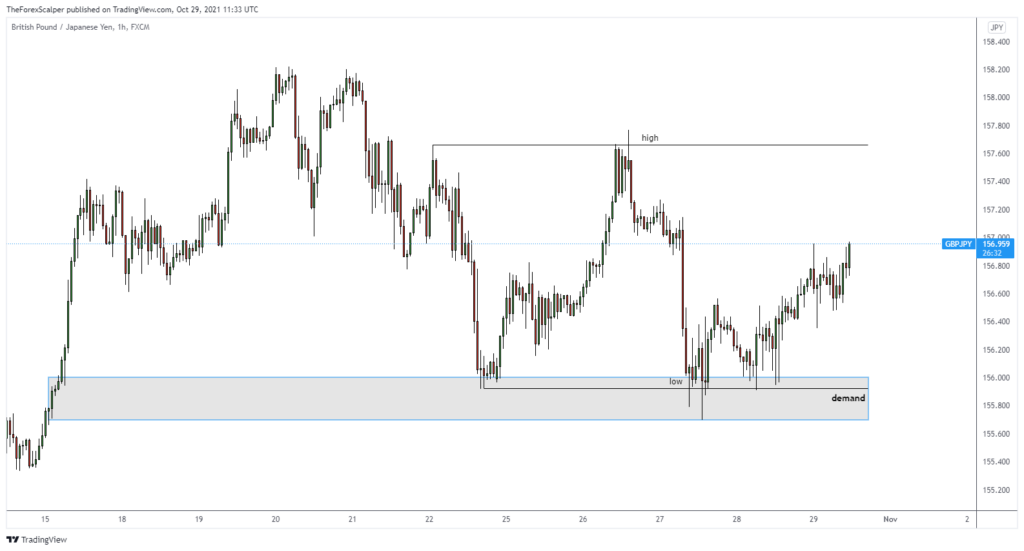 Above we see a nice example on GJ.
We see a clear Demand zone and I have also drawn the Low and High.
If we look closely at this image, you can probably spot some nice entries.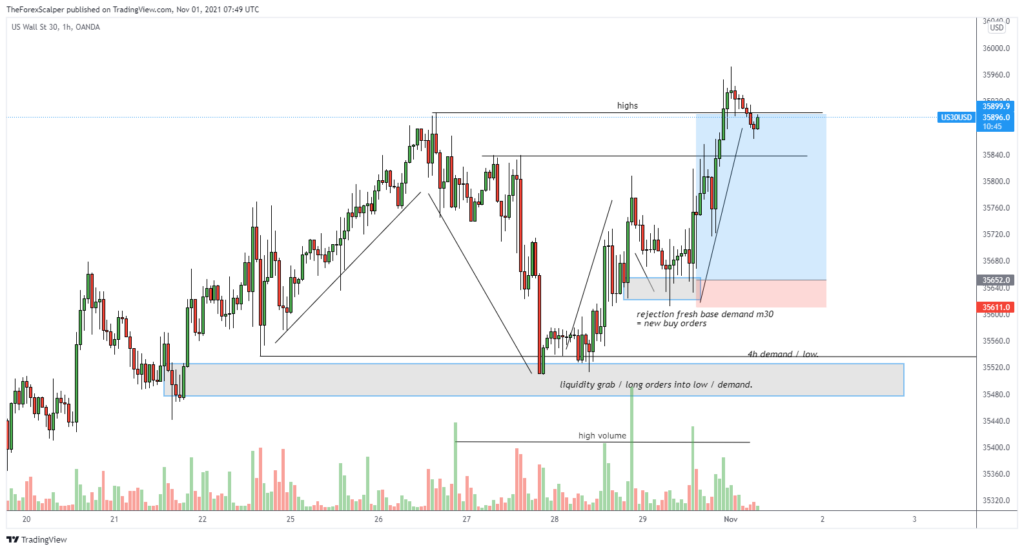 As you can see at
us30
we comes with a lot of sellers pressure in a fresh
demand level
, from here we are looking for a shift from
sellers
to buyers we know that demand levels contain long orders in this case so possible buyer orders waiting to be filled.
We also see that the last low tested deeply (
liquidity push
) we also see that price comes in with high
volume
, which is an even greater confirmation.
Then we see a shift multiple spikes rejections / exhausted become the sellers and so the buyers take over.
Then we see a new leg up when we shift to a lower
timeframe
we see that on the lower timeframes new buy levels are created or new demand levels that are again full of
buy orders
which gives us the possibility for multiple
entries
!
It is very important to determine the
liquidity levels
and the supply / demand levels and a large part of waiting and execution at the right time is key price reading, learning to understand the price and
what the price tells you
, because every candle has its own story.
supply & demand..
Or want to know more about When to enter a trade forex?
So if you are a beginner trader and to become a good professional forex trader.
Want to know more about when to enter a trade forex?
The Forex Scalper teaches you the best scalping trading strategy using supply and demand zones.
Which are already traded and tested by thousands of TFS members and performs daily trades.
To become profitable from Beginner Trader and most successful Scalping trader in Supply and Demand.
So join THEFOREXSCALPERS and trade with 3500+ community traders with daily analysis and educations.
Which boosts your trading skills make you Professional Forex Market Trader.
======================
Results – Instagram
======================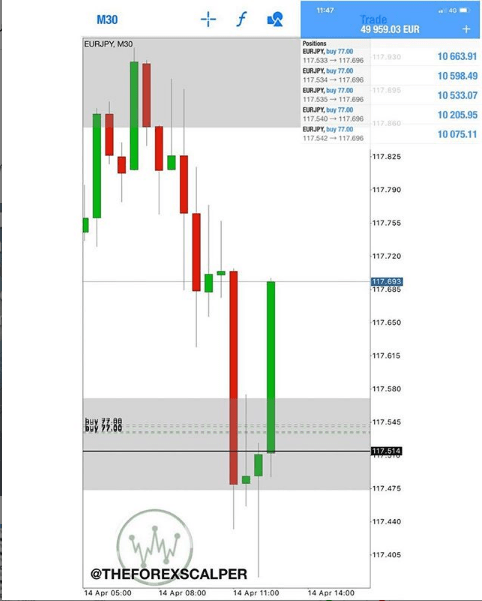 Looking for a Trusted Regulated Broker?
TheForexScalper recommends you join ICMARKET which is regulated and the most trusted broker.
They provide very tight raw spread account with fast execution and having multiples deposit and withdrawal options.