The first open order is very exciting for many novice traders.
And because many enter it with too little experience, it does not immediately benefit the novice trader.
He has a powerful will to open one or even many other orders.
Also called "over trading".
So he thinks it is positive and that it is "his day" filled with excitement, overconfidence, and greed.
Sadly, it also leads directly to the opposite conclusions.
Of course this does not mean that that first order would be a failure.
But all those factors will make most novice traders lose some money.
So in other words it boils down to having a good trading plan, a strategy and some knowledge of the forex market to place a correct order.
Basic Conditions for Multiple Open Orders in forex trading:
In medium and long-term trading, you should open additional orders.
In short-term trading (scalping) you are likely to not only get the much needed extra positions but also you can lose.
You should have a consistent set of signals for technical analysis supporting the current trend.
You should have favorable options for funding.
Your total open positions volume should not be too high.
And you must also always bear in mind the potential correction of a specific currency pair's motion.
You should have technological availability in order to close all trading positions very quickly.
In the face of adverse changes in the market situation.
Even though all of the above conditions are met, opening more than three trading positions simultaneously is not desirable.
The trend is quite a changeable thing and losses can be incurred by each additionally added trading position.
Do you want to become Success Supply and Demand Trader or want to know more about Orders in Forex Trading?
If you are a beginner trader and to become a good professional forex trader.
The Forex Scalper teaches you the best scalping trading strategy using supply and demand zones.
Which is already traded and tested by thousands of TFS members and performs daily trades.
To become profitable from Beginner Trader and most successful Scalping trader in Supply and Demand.
Join THEFOREXSCALPERS and trade with 3500+ community traders with daily analysis and educations.
Which boosts your trading skills make you Professional Forex Market Trader.
======================
Results – Instagram
======================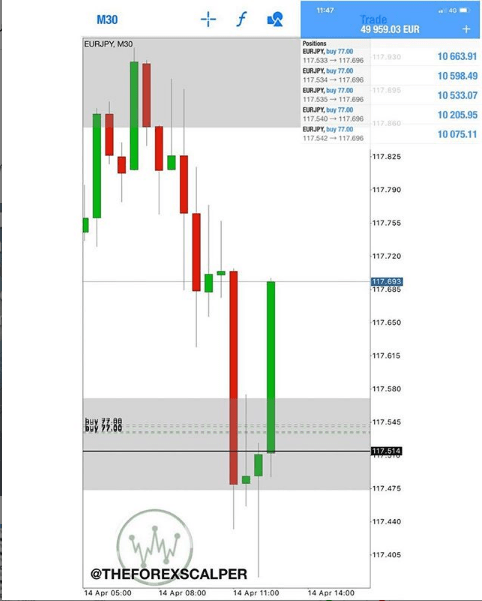 Looking for a Trusted Regulated Broker?
TheForexScalper recommends you join ICMARKET which is regulated and the most trusted broker.
They provide very tight raw spread account with fast execution and having multiples deposit and withdrawal options.
Please follow and like us: