What is the best forex broker?
What is the best forex broker?
Very often I get the question which brokers are actually good and reliable.
Or the question with which broker I trade myself.
When you enter the world of trading, there are many brokers to choose from.
And that often makes it so difficult to find the right broker for yourself.
Of course I can't talk about all brokers in this blog or about which of the many brokers can be trusted.
But in this blog I will give you a good insight into what you should pay attention to with a broker before you put your capital in the broker.
In this blog I will also tell you exactly which brokers I use and why.
What should you pay attention to?
Maybe you are currently looking for a good broker or do you want to switch to another broker?
I will tell you what you should definitely pay attention to when looking for a good broker.
-ECN Broker.
I advise you to pay close attention to whether the broker is an ECN Broker.
The abbreviation ECN in ECN broker stands for Electronic Communication Network.
ECN brokers enable parties to trade directly with each other.
Because the trader and liquidity provider are in direct contact with each other, orders can be executed very quickly, regardless of the geographical location of the parties.
It also means that trading through an ECN broker enjoys a certain degree of anonymity and protection.
ECN Brokers make their money by charging fees on every transaction performed.
There are ECN brokers that focus specifically on the retail market, while other ECN brokers only serve institutional investors.
Many traders choose ECN brokers because they usually have lower spreads and overall transaction costs and commissions are generally lower.
What is the best forex broker?
-Regulated broker.

Find out if the broker is a regulated broker.
I'll tell you why this is very important.
Why is it very important for a broker to be regulated?
Because we are talking about the safety of your money here.
The money you invest and the broker's promise to only use that money for the right purpose.
In short, if a broker is not regulated, this means that there is no supervision over it.
So there is no regulated organization or group that monitors whether the broker adheres to the rules.
In the worst case, this can mean that the unregulated broker can just run away with your capital.
So the first thing you should do is check if it is a regulated broker before putting your capital into it.
-A Book / B Book Brokers.
What exactly is the difference between A booked brokers and B booked brokers and which one is the best?
I will first give you an explanation of what an A Book broker is and entails.
A Book
ECN/STP brokers all use an A Book, they are intermediaries that send their clients' trading orders directly to liquidity providers or multilateral trading facilities (MTFs).
These forex brokers make money by increasing the spread or by charging commissions on the volume of orders.
Therefore, there are no conflicts of interest, these brokers earn the same amount of money with both winning and losing traders.
B Book
Forex brokers that use a B Book keep their clients' orders internally.
They take the other side of their clients' trades, which means that the brokers' profits are often equal to their clients' losses.
Brokerage firms are able to manage the risks associated with the holding of a B Book by using certain risk management strategies: internal hedging through the matching of opposite orders submitted by other clients, spread variations, etc.
As the majority of retail traders lose money, the use of a B Book is very profitable for brokers.
I would therefore also recommend that you always go for an A Booked ECN Broker.
What is the best forex broker?
-And finally.
Although everything I have described above is crucial to choose the right broker, there is still one point that is very important.
Because the environment of the broker is of course also an important aspect.
Therefore, also check whether the broker has a good environment, instruments and help.
Look if they have a trading platform which is easy to navigate and has all the required tools, advanced charts and optimal speed.
Also look at the different account types and of course the minimum deposit, spread and leverage.
Which broker do I use myself?
Well with all the tips above I am sure that you can make a good choice for the right broker.
And what you should especially pay attention to when choosing the right broker.
Because I often get the question which broker I use, I'll tell you now.
I have actually been using IC Markets for a number of years now.
IC Markets is an ECN Broker which I really like.
They pay your winnings quickly and they have friendly and good customer service.
Which I personally find very important.
IC Markets also has a relatively low spread, which is of course very attractive for us as traders!
Would you like to know more about IC Markets or perhaps create a (demo) account so you can experience it for yourself?
Then click on this link!

Do you want to become Success Supply and Demand Trader or want to know more about what is the best forex broker?
If you are a beginner trader and to become a good professional forex trader. Want to know more about What is the best forex broker? The Forex Scalper teaches you the best scalping trading strategy using supply and demand zones which are already traded and tested by thousands of TFS members and performs daily trades.
To become profitable from Beginner Trader and most successful Scalping trader in Supply and Demand.
Join THEFOREXSCALPERS and trade with 3500+ community traders with daily analysis and educations which boosts your trading skills make you Professional Forex Market Trader.
======================
Results – Instagram
======================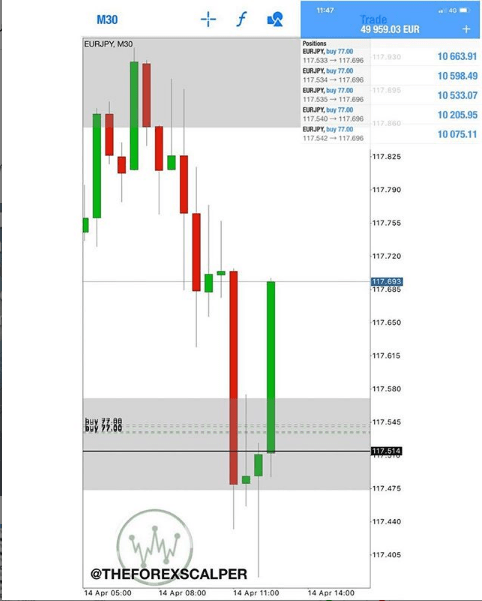 Looking for a Trusted Regulated Broker?
TheForexScalper recommends you join ICMARKET which is regulated and the most trusted broker. They provide very tight raw spread account with fast execution and having multiples deposit and withdrawal options.