Is forex trading legal?
Is forex trading legal?
Is Forex Trading Legal?
This is a question I often hear from traders.
And yes forex trading is legal and trading the financial markets is completely legal.
Although there are special rules and laws in some countries and forex trading is banned in some countries.
The rules regarding Forex trading are different in every country.
So I advise you to take a good look at what the rules are in your country.
I have described below a few countries with special rules regarding Forex trading.
Countries where Forex is restricted.
Belgium.
Since 2016, the Financial Services and Markets Authority (FSMA) of Belgium.
Has banned binary options and rolling spot forex contracts.
Belgium simultaneously banned aggressive marketing.
Ensuring investors won't be exposed to promises of riskless profit and outsized returns.
So as a resident of Belgium you are free to trade forex.
But you will have to use the services of an overseas broker.
Malaysia.
Trading forex is legal in Malaysia but only with a registered and approved financial institution.
So the official rule in Malaysia is that it is only allowed to trade forex at licensed institutions.
Of which there are several!
India.
Firstly forex trading is legal in India.
Securities and Exchange Board of India (SEBI) is the body responsible for the Forex trading industry.
SEBI regulates all the forex brokers in India regardless of whether they are onshore or offshore brokerage firms.
But when we talk about retail trading in India, there are limitations.
The government has not forbidden Indians to trade Forex.
So they have limited trading for Indian residents to only trade currency pairs against INR (Indian Rupee).
As a an Indian resident, as long as you are trading through an Indian Brokerage.
Which allows access to Indian Exchanges such as the NSE, BSE, MCX-SX.
And providing access to currency derivatives is entirely legal.
China.
Despite being the most populated country with a sound economy, they have restricted the forex market.
As similar to other Asian countries, China has restrictions on foreign brokers, trading forex and trading software.
So if a foreign trading company wants to trade with locals, it has to open a new local company in China.
Japan.
Japanese are way ahead of what they are doing but they have also given limited live forex exposure.
So Japanese also cannot use mobile trading. Margin trading is also not allowed in this nation.
Using these restrictions over online trading, Japan is protecting its economy.

Is forex trading legal
Countries where forex is banned.
Zimbabwe
Syria
British Columbia (Canada)
Cuba
Sudan
North Korea
Myanmar
Liberia
Iran
Ivory Coast
South Korea
Belarus
Quebec (Canada)
In addition, there may be a ban on trading in countries that live according to the laws of Islam.
Such as Iran, Saudi Arabia, Pakistan, etc.
But trading in financial markets can be legal when using the so-called Islamic account.
Which implies trading without swaps.
(according to Sharia law, it is prohibited to receive or pay interest).
Why countries restricting or banning Forex Trading?
In conclusion some countries view gambling and forex trading as the same thing.
That is why trading forex is restricted or banned in some countries.
Because we all know if you don't use good risk management you can lose your entire capital.
And the country wants to protect its inhabitants from that.
There is also a danger to the economy and currency of the country due to forex trading.
If you are a beginner trader and to become a good professional forex trader.
Want to know more about Is forex trading legal?
The Forex Scalper teaches you the best scalping trading strategy using supply and demand zones.
Which are already traded and tested by thousands of TFS members and performs daily trades.
To become profitable from Beginner Trader and most successful Scalping trader in Supply and Demand.
So join THEFOREXSCALPERS and trade with 3500+ community traders with daily analysis and educations.
Which boosts your trading skills make you Professional Forex Market Trader.
======================
Results – Instagram
======================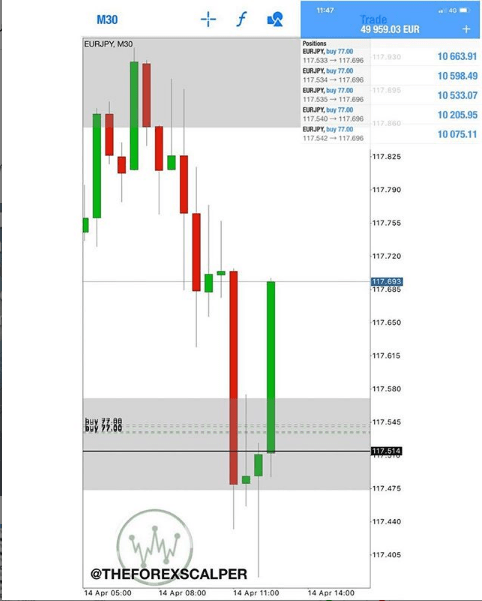 Looking for a Trusted Regulated Broker?
TheForexScalper recommends you join ICMARKET which is regulated and the most trusted broker.
They provide very tight raw spread account with fast execution and having multiples deposit and withdrawal options.
Please follow and like us: