How to take profits in trading?
How to take profits in trading?
Today I'm going to talk about taking profits.
You probably ended up here because you are having problems taking your profits.
And what exactly is the problem?
Perhaps you will find the answer to your question in this blog.
Taking your profit is a very important element in trading.
And it will also determine a large part of your success in trading.
It is also the only time when you actually own the winnings.
The problem of not taking the right take profits can have several causes.
It could be psychological or maybe you lack the right insight in your trading strategy.
Let's talk about the psychological aspect first.
Psychological aspect.
I think we all recognize it and everyone has certainly experienced it at least once.
For example, you have taken a very nice trade and you have your stop loss and your take profit.
So let the trade run now.. Or not?
The price is moving in the right direction towards your take profit.
And now things can go wrong in your head in several ways.
Maybe you get scared and close the trade much earlier than your ultimate goal?
You want to have your profit because imagine the price turning against you again?
Then the price hits your target anyway and you regret going out earlier.
You could have made so much more profit.
How to take profits in trading?
Or this one I hear very often.
We go back to the nice trade we took and this time too the price goes very nicely to our take profit.
The price moves quickly towards our target.
But then it goes wrong again because you see the price moving towards target so quickly.
So you decide that you can move your take profit a bit more to get more profit on your trade.
I mean the price moves so fast towards your target right?
Okay you just moved take profit and now just wait for your nice profit!
But now price taps into your original take profit and reverses the other way.
Oh no were you too greedy then?
So when you analyze your trade again later, you also find out that your take profit made no sense at all.
And you did not stick to your plan.
So the most important lesson from this story is stick to your plan. And don't let your mind play games with you.
Trading strategy.
And now about the technical aspect with the core focus on the higher timeframes lows & highs.
We as supply & demand traders combine these two with each other, the lows and the highs mainly represent a price range.
This price range can be determined on basically each timeframe, a lower timeframe to a higher timeframe.
I mainly use the higher timeframe lows / highs to have a good indication of the price range we traded in.
This varies from daily / 4h / 1h.
Within this range we find valid supply & demand levels that allow us to see where the institutional orders are located and the big whales that ultimately move this market.
So it is important to understand that we are learning to recognize the ultimate edges of the market, and to recognize these levels of orders.
These higher timeframe lows / highs we find our supply & demand levels on the lower timeframes which offers us potential opportunities as mentioned the sell / buy orders.
these supply / demand levels are located at 4h 1h m30 m15.
See below a number of examples on XAUUSD / US30.
Which you can use as a possible target, once again learning to properly apply the concept of supply & demand within these price ranges is also a very important point.
more about this in the course.
How to take profits in trading
Finally a tip that I want to give you, focus on max 1 to 3 assets learn to recognize the movements understand the price ranges and follow the institutional order flow, supply & demand.
Do you want to learn to take even better entries and look into the candle?
Then I advise you to take a look at the new order flow course.
This course fits in perfectly with trading with Supply and Demand.
And the combination of these two is gold!
I myself have been using the order flow tools for quite some time now and I can tell you from experience that you can make even tighter entries with this.
keep it stupid simple.
kev
Do you want to become Success Supply and Demand Trader or want to know more about how to take profits in trading?
If you are a beginner trader and to become a good professional forex trader. Want to know more about how to take profits in trading? The Forex Scalper teaches you the best scalping trading strategy using supply and demand zones which are already traded and tested by thousands of TFS members and performs daily trades.
To become profitable from Beginner Trader and most successful Scalping trader in Supply and Demand.
Join THEFOREXSCALPERS and trade with 3500+ community traders with daily analysis and educations which boosts your trading skills make you Professional Forex Market Trader.
======================
Results – Instagram
======================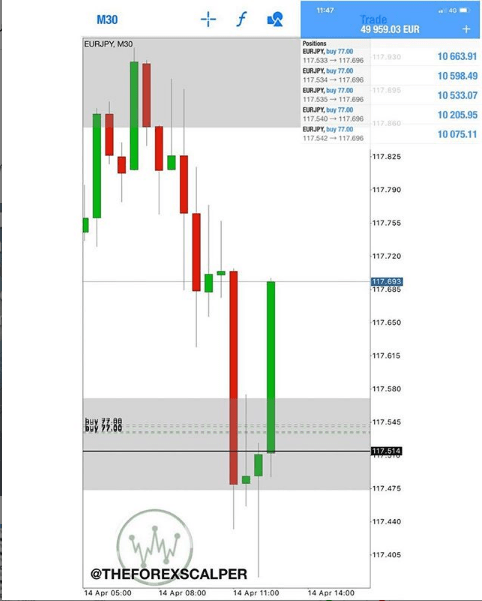 Looking for a Trusted Regulated Broker?
TheForexScalper recommends you join ICMARKET which is regulated and the most trusted broker. They provide very tight raw spread account with fast execution and having multiples deposit and withdrawal options.
Please follow and like us: