Forex volume indicators
Forex volume indicators.
Is it important to use a volume indicator when trading forex?
I personally think this is very important to know if and when there is enough volume on the market to be able to make a good trade.
I mean we all know it and I think we've all experienced it that the moment when you have just taken a nice trade, the pair suddenly goes into consolidation.
And we don't want that and we should of course prevent that as much as possible.
For that reason alone, the use of a volume indicator is very important.
There are several volume indicators you can use and we have plenty to choose from.
I only use 2.
These are also fully explained in my course and I also think it is very important that everyone learns to use them correctly because these are probably the only indicators that can allow you to trade Supply and Demand successfully.
I mean it can be a very useful tool.
Today I am going to give you a little more explanation which indicators I use and also recommend to use as an extra conformation when you want to enter a trade.
Unfortunately, I won't be able to tell you everything in this blog, but if you want to know more, you can always join the course where everything is explained step by step.
1. Volume Profile
Volume profile is 1 of the indicators that I recommend to use and especially if you are a Supply and Demand trader this is a very handy tool.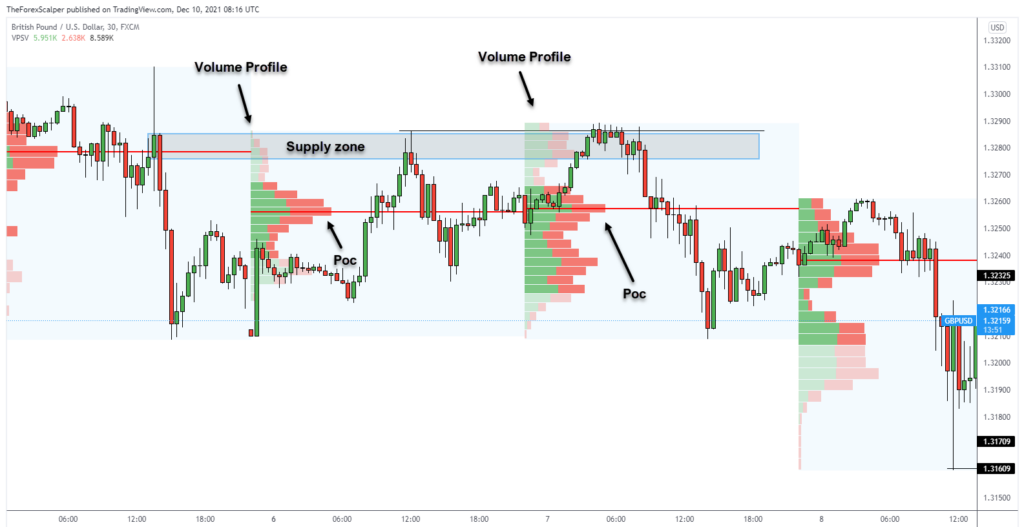 The most important thing this indicator shows is the POC.
See that red line? That's the POC!
I will tell you if you just use the POC in your trading you will definitely become an even better trader.
And it doesn't matter which strategy you have, this indicator is always handy to use next to it.
But what exactly is the POC and why is it so important?
POC means Point Of Control and it is important because it shows us at which point the most trading took place.
(Where the biggest trading positions were accumulated.)
But who accumulates these large trading positions?
That's right! The big boys!
And when I talk about the big boys I am of course talking about the banks, hedge funds etc.
We all know these big guys are moving the market and.
And is it of course a big advantage if we know where and when they place their positions, don't you think?
So to have an insight into that, we can use the volume profile where we can see the POC.
The big boys can't hide where they place their big orders either.
Because we know "Big Guys" = "Big Positions" so they will always stand out on the volume profile.
Conclusion.
In short, the POC is where the big boys are.
The big boys who move the market.
I think you can now imagine that you can make much better trading decisions by using this indicator.
2. Volume.
Okay, I have already shown and explained the most important indicator above.
But there is another volume indicator that I sometimes use in my trading.
I'm going to show you this now!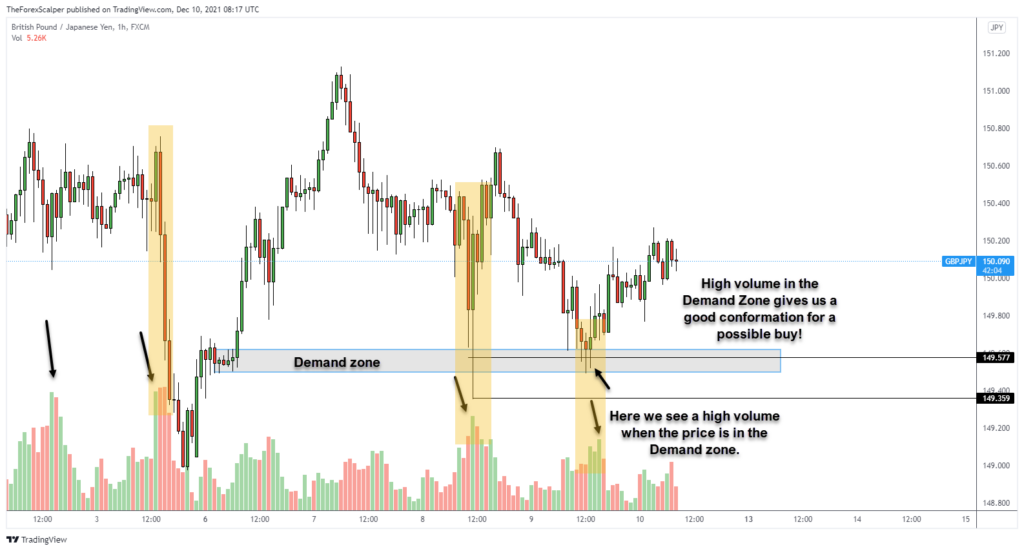 I mainly use the volume indicator to see if there is enough volume on the market when I want to take a trade.
If this matches so I mean large volume when the price is at a Supply or Demand zone this gives me an extra conformation for a possible buy or sell.
(In this case, the colors of the volume indicator don't matter).
This can also help you not to enter a trade that goes into consolidation.
Because the lower the volume, the greater the chance that price goes into consolidation.
And the higher the volume, the faster the price often moves.
You can also easily spot possible fake outs or a change in the trend with this indicator.
This is too much to explain in this blog but of course I also explain this completely in my course.
I hope I was able to help some of you with this blog to become even more successful in the forex market.
—————————————————————————————————————————————
Or want to know more about forex volume indicators?
So if you are a beginner trader and to become a good professional forex trader.
Want to know more about forex volume indicators?
The Forex Scalper teaches you the best scalping trading strategy using supply and demand zones.
Which are already traded and tested by thousands of TFS members and performs daily trades.
To become profitable from Beginner Trader and most successful Scalping trader in Supply and Demand.
So join THEFOREXSCALPERS and trade with 3500+ community traders with daily analysis and educations.
Which boosts your trading skills make you Professional Forex Market Trader.
======================
Results – Instagram
======================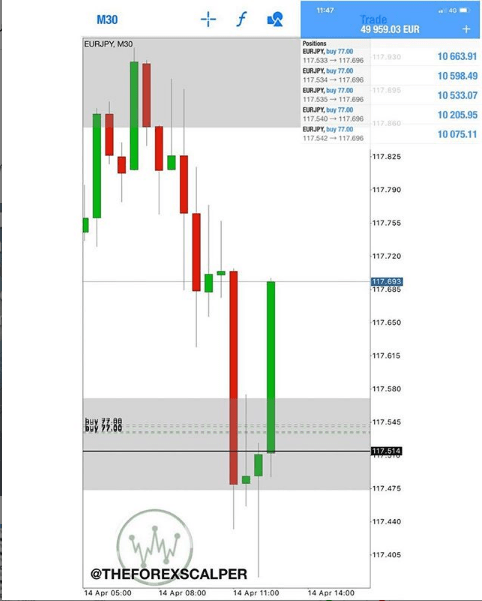 Looking for a Trusted Regulated Broker?
TheForexScalper recommends you join ICMARKET which is regulated and the most trusted broker.
They provide very tight raw spread account with fast execution and having multiples deposit and withdrawal options.