I often get the question whether trading Forex is haram or halal.
Opinions are divided on this one person thinks not and the other does.
We know, of course, that gambling is prohibited in Islam.
But is Forex trading comparable or the same as gambling?
Whether it is gambling or not depends of course on the person.
If you are going to throw yourself into the forex market without knowledge and experience, you will of course "gamble" because you have no idea what you are doing.
So is that Haram? Yes, because that's just gambling.
But are you very serious and have you already learned a lot about different strategies and do you know where you stand in the market?
Then we can see this more as a "company" because you also treat it as a company and in this case you are not gambling and trading forex is in most cases Halal.

What does Islam say about Forex Trading?
Having reduced the issue to one of trading spot Forex and assuming there is no interest element deemed to be involved.
Actually it is allowed only as long as it is "Hand to Hand".
So the Prophet Mohammed (peace be upon him) had in mind exchanges of different types of commodities that would be made between two parties, recognizing that this was a natural and just aspect of commerce.
The question here lies in what is considered to be "hand to hand".

For this answer we have to go back in time a bit.
Because in the past we didn't have computers or telephones, so back then we only did hand-to-hand deals.
Face to face so to speak.
It was the way and accepted to make a deal between two parties.
Now in this day and age things are often very different and we are used to closing deals via the internet or perhaps the telephone for a long time, it is no longer just face to face.
Now let's go back to forex trading because there is another discussion about that.
So this would qualify under such a definition of two different parties, which would be permissible according to Islamic law.

Islam forex brokers.
Nowadays there are also Islamic forex accounts that you can open with different brokers. IC Markets is one of them, for example.
But what is the difference with a normal forex account?
The big difference is that you don't pay a Swap.
This way you earn and pay no interest on your trades.
A swap free trading account is a Forex trading account that is allowed by Islamic Shariah law.
In Sharia law it is not allowed to have any interest applied for an overnight position. This is important for Muslim traders because Sharia law forbids Muslims from charging and paying interest on a loan.
Fortunately, swap free accounts are considered acceptable due to the fact that there is no interest applied, and commerce and trading has always been an activity that has been encouraged by Islam
So in the case of the swap-free account, the broker charges a fixed commission against the trader's account balance instead of taking a portion of the rollover interest swap.
Conclusion
To return to the question of whether forex trading is gambling? The answer is that it is up to the trader.
If the trader uses a good analysis which has proved profitable in the past it cannot be called gambling but at most risky.
Is online forex trading haram? If the riba (interest) element is removed, a convincing case can be made that online Forex trading is halal and not haram, especially if leverage is not used.
Many brokers also offer Islamic accounts which are okay to use.

Ultimately, the choice is yours and only you know whether you consider Forex trading a business or gambling!
But at least as a Muslim you can trade forex in a halal way.
—————————————————————————————————————————————
Or want to know more about Delta order flow?
So if you are a beginner trader and to become a good professional forex trader.
Want to know more about Delta order flow?
The Forex Scalper teaches you the best scalping trading strategy using supply and demand zones.
Which are already traded and tested by thousands of TFS members and performs daily trades.
To become profitable from Beginner Trader and most successful Scalping trader in Supply and Demand.
So join THEFOREXSCALPERS and trade with 3500+ community traders with daily analysis and educations.
Which boosts your trading skills make you Professional Forex Market Trader.
JOIN HERE TFS COMMUNITY======================
Results – Instagram
======================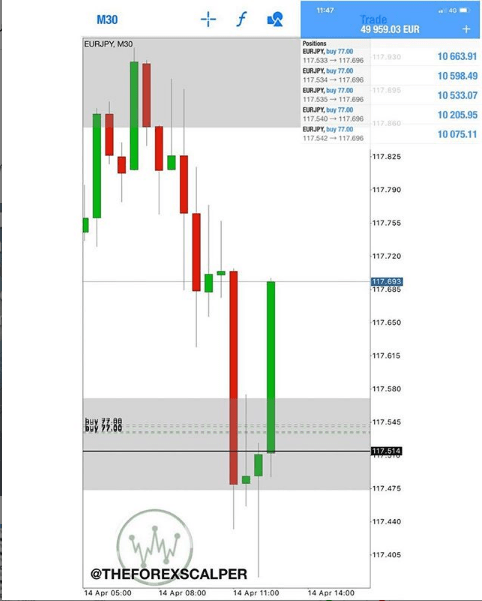 Looking for a Trusted Regulated Broker?
TheForexScalper recommends you join ICMARKET which is regulated and the most trusted broker.
They provide very tight raw spread account with fast execution and having multiples deposit and withdrawal options.